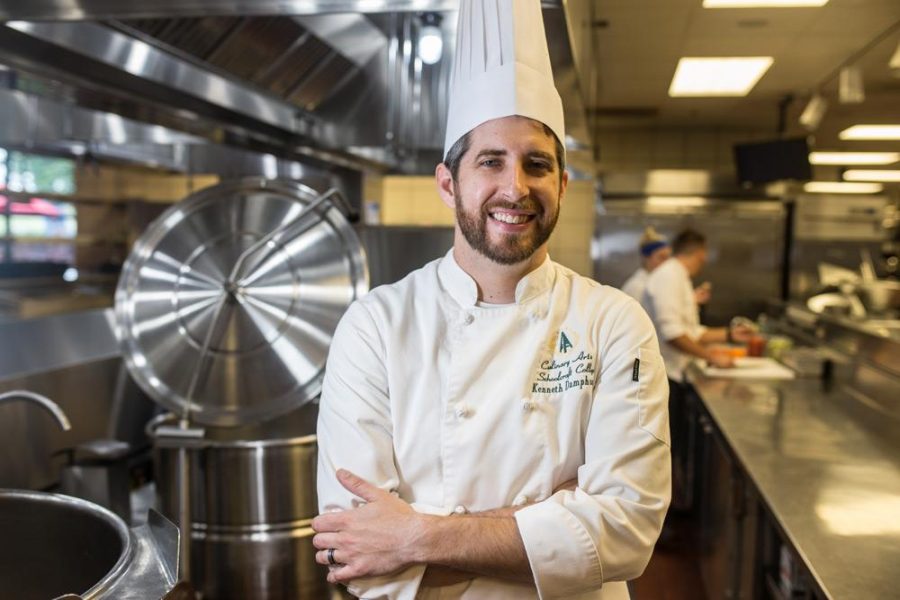 Since his graduation from Schoolcraft's Culinary Arts Program in 2008, former chef and current analyst, Ken Damphousse, has certainly made busywork of selling himself and his culinary skills to fill more than people's famished stomachs. Similar to other young culinarians, Damphousse's interest and later career in the industry began with an entry-level job that would expose him to the kitchen's charming hustle and bustle.
"I started off busing tables and cleaning in the dish tank," states the 32-year-old Damphousse. "One day, we were short-staffed and I was asked to fill in. That was when I fell in love with the orchestra of tickets, grills and teamwork."
After his humble beginning, Damphousse heated up the kitchen and worked his way up the ranks to the status of executive chef at retirement communities, StoryPoint and Independence Village. He would also participate in various 'taste-of' events focusing on foods from different backgrounds to temporarily bring a few traveling trophies home to his kitchen. According to Damphousse, the recognition was an honor but nothing was able to beat the thankful residents he served.
"Food really has a way of bringing people together," he commented. "My experiences in the industry and at Schoolcraft helped me to realize this."
Moreover, he chose Schoolcraft for his culinary education due to its convenient location in his hometown and its affordability. The balance of high-quality Certified Master Chefs (CMCs) and Certified Executive Chefs (CECs) involved in the program also played a monumental factor in his decision. Though he didn't partake in working at the college's student-led American Harvest, Damphousse immensely enjoyed the practical days in his classes where he could showcase and put his learning to the test.


The culinarian reflected on one particular instance that provided him with valuable advice from a memorable and respected instructor:
"Baking was never my strong suit and for the practical in chef Decker's class, I had drawn a Bavarian Cream Cake. Everything that could have gone wrong did – my first take was a disaster with only hours to correct it. I did everything I could to get something presentable by plate time. When it was time to present, chef Decker tasted it and told me that he had been paying attention to my every move. He said something that I try to remember on the days that nothing seems to be going right. 'It's not about the mistakes you make – it's about how you recover from them.'"
Damphousse would later return to his alma mater in 2017 to further his education in Culinary and Dietary Operations Management. This would fuel his beliefs of life-long education and pursuing one's passions, ultimately leading him to the work he does now as an analyst striving to help businesses grow.
As he continues to spread his wings and expand his horizons, Damphousse wants prospective culinary students to know that the skills they learn will absolutely be helpful and useful in advancing their careers. This can even apply to employment outside of the culinary industry and students who aren't inclined to pursue a certification.
"While it's far from the kitchens I spent most of my career in, I rely on methods from the culinary world to be successful," Damphousse explained. "I'm responsible for finding efficiencies, making sense of data and creating processes. It's because of the well-rounded education that Schoolcraft provided me that I can plan and help solve complex issues."
Those interested in learning more about the opportunities available in Schoolcraft's culinary program and beyond should visit the college's website at schoolcraft.edu to view available academic majors, certifications and more.
Photos courtesy of Ken Damphousse