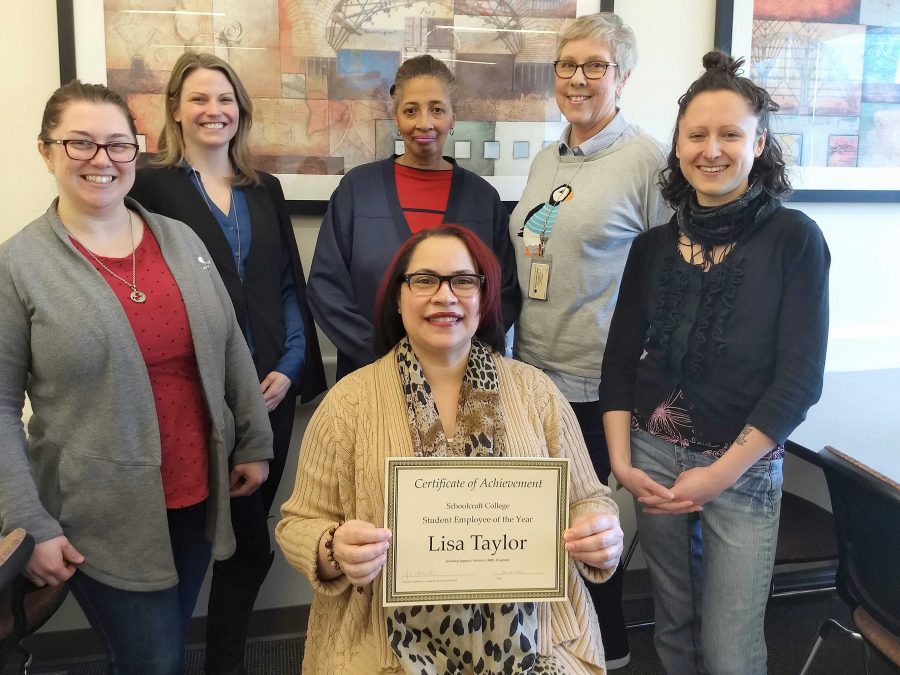 Student Employees are essential to the operations of many departments at the College. Four hundred student employees are actively assisting with these needs. Each year the Schoolcraft Career Services calls for nominations from campus supervisors of outstanding achievement by their student employees. Amid an array of diligent student employees, the Student Employee of the Year Committee reviewed 9 nominations and selected Lisa Taylor from Learning Support Services as this year's recipient.
Taylor is double-majoring in psychology and social work. As a member of the STARS Program, she was nominated by the supervisor and former academic success coach, Ali Pavlicek.
Her history in the program began July 2019, shortly after crossing paths with Associate Dean, Melissa Schutz, who mentioned the possibility of working in this program. Taylor was eager to assist fellow students to success and was thrilled to accept the job when it was offered.
"Little did [Schutz] know I was in search already for an opportunity on campus that would best fit my passion and purpose in making a difference in the lives of others as well as an opportunity for continued growth," Taylor stated. "It has been nothing less than amazing from day one."
As a peer mentor, Taylor works to motivate, inspire and support the students in the STARS program. She attests the passion she has for her students as what made her stand out to her supervisor. Her supervisor highlighted Taylor's 'strength of positivity' and 'relentless passion to serve' upon the nomination.
"It is such a rewarding experience to work closely along with the LSS, LC staff and student employees," Taylor commented in regard to her experiences and her students' perseverance in response to the Coronavirus pandemic. "The resources offered are phenomenal! The students are determined to remain on course and finish the semester strong and are the true SuperSTARS!"
she highlighted.
Additional students who were nominated for the award include: Mark Barath – Learning Support Services Lead Tutor; Megan Bush – Registration Center Student Assistant; Elizabeth Call – Radcliff Learning Center Tutor and Office Assistant; Clarice Ford – Learning Support Services Lead Peer Assisted Learning Leader & Tutor; Klea Hoxhallari – Learning Support Services Lead Peer Assisted Learning Leader & Tutor; Brian Hurst – Information Technology Support, Academic Computing Lab; Lucas Moody – Learning Support Services Lead Peer Consultant; David Standhardt – Occupational Programs/Manufacturing Lab Student Assistant.
Anyone interested in becoming a student employee on campus should contact Career Services at call 734-462-4421, email: [email protected] or visit schoolcraft.edu/careerservices/student-employment for more details.
Photos courtesy of Schoolcaft College