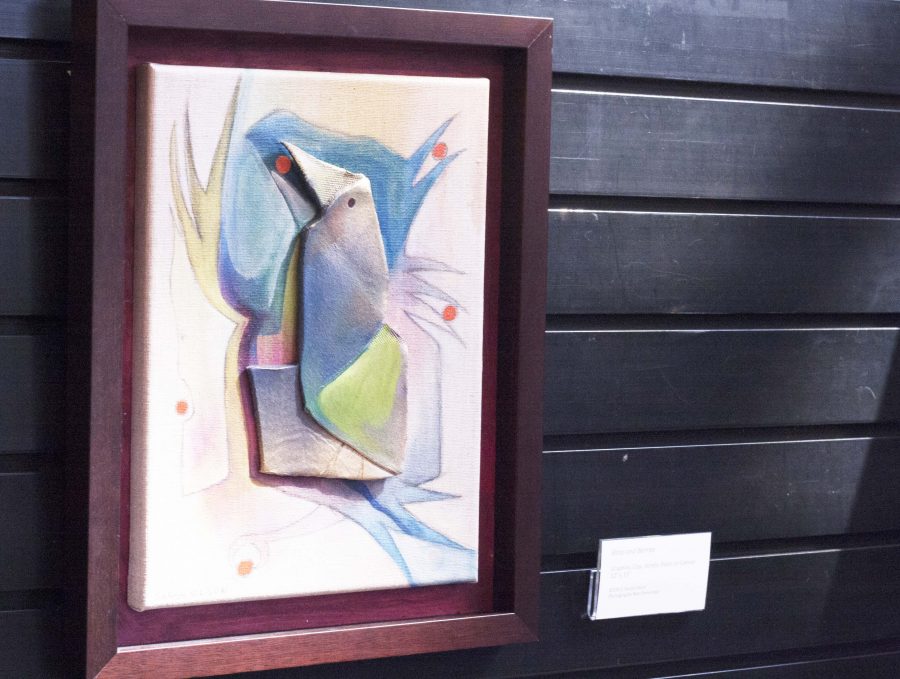 Art department head shines in gallery debut
By Jackie Charniga
Editor in Chief
Of the many spectacular fields of study that Schoolcraft has to offer, possibly the least publicized is the Art Department but despite it being a lesser-known asset to the college, Department Head Sarah Olson's prominence in the community is not to be overshadowed.
From September 3 through the 29 in the Livonia Fine Arts Gallery, located on the 2nd floor of the Livonia Civic Center, Olson's work was celebrated by community members, fellow faculty, and students alike.
The gallery highlighted Olson's collection of pieces created over time. Some, including three-part painting titled "Sarah the Younger," that had not been seen by the artist in years.
Students in particular were intrigued to examine some their professor's work, though they had seen a great deal from her classes.
"I found her pieces kind of surprising," stated Pete Helms, a fine arts major currently enrolled in Olson's Painting I and Life Drawing I classes. "Generally when you hear the word 'abstract,' you don't necessarily know what you're going to get or if you'll like it, but that was not the case [with this exhibit]."
"My favorite piece was one located in the front panels of the exhibit, which consisted of birds eating berries. It was a cool combination of abstract and figure painting, and was displayed on a non-traditional canvas."
Citing rococo painters (of the late baroque time period), Olson counts artists such as Tintoretto and Fragonard among her influences. This style of painting, known for its surreal and dramatic quality, is easily associated with the frothy depth and brilliant

color developed by Olson in her paintings. Olson also utilized linen fabric instead of traditional cotton canvas, and several of her pieces included three-dimensional aspects and mixed media. Employing the use of artistic adhesive, Olson would sculpt fabric onto the canvas itself, and used paint to give it definition and allure.
With such an eclectic mix of different works, Olson considers whichever piece she is currently working on as her favorite, playing to the recurring themes of rhythm, energy, and temporal immediacy; Olsen rarely considers any one painting individually, but rather as part of an ever-evolving body of work. However, there is one piece that she holds close to her heart.
For those who missed this gallery event, checking out a sample of Olson's work on campus is not difficult. Her favorite piece, "The Heart Beats On," is a welcoming ode to Schoolcraft that hangs near the entrance to the Vista Tech Center.
"I am currently very excited by the work "The Heart Beats On," remarked Olson, "Because it is an expression of my experiences and friendships I've developed while teaching at Schoolcraft.  I've worked with many fellow educators and students from different backgrounds, and it has been a privilege for me to be a part of their educational journeys." Four-times the size of the print featured in the exhibit, it is located near the American Harvest Restaurant.
Olson currently has no plans for further exhibitions, but is always open to new opportunities and experiences.