Winning and learning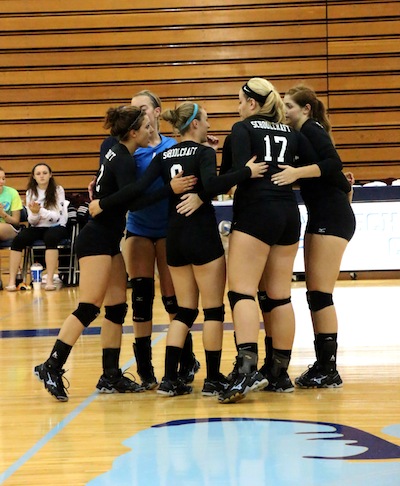 Volleyball team continues to develop
By Evan Paputa
Sports Editor
There is no such thing as losing in Rod Brumfield's vocabulary. No matter what the final result is Schoolcraft's fourth-year volleyball head coach takes something away from every match.
"We win or we learn. We never lose," Brumfield said. "When you're not the winner, you have to learn."
With a 15-15 record and one game remaining in the regular season, Schoolcraft continues to improve with each and every match played.
"It's a process of positive growth. Sometimes it's inches, sometimes it's leaps and bounds. You don't know," Brumfield explained.


This growth has been made possible from what Brumfield describes as a progression of always improving at every game and practice.
Brumfield likes that his team has high maturity and works well as a group.
"Play for somebody else. You have to play for others," Brumfield said. "We are a positive growth team. The kids are always getting better."
When Schoolcraft is not playing well, Brumfield does not have to look far to find out why.
"When we get into a huddle, we know what is going wrong. We don't discuss what's wrong. They say 'We need to serve Coach,'" Brumfield said.
Brumfield has a unique philosophy about who his "starting" players are. Depending on how each player plays in practice, Brumfield then selects his lineup.
"I don't call them starters. I call them 'opening players.' If you have a great practice, you should expect to start," Brumfield said. "Every practice is a job interview."
With the regular season winding down, Brumfield has seen his team play with quality down the stretch.
"Their footwork and body movement are efficient. That has improved from August 1," Brumfield said. "They are efficient."
The Schoolcraft volleyball team is made up of 15 players – eleven freshmen and four sophomores.
With eleven players entering straight out of high school, adjustments have to be made to be able to play at the college level.
"It's the same skill, but the speed and physicality are differences," Brumfield said.
The academics of college versus high school have not been a concern for Brumfield with his freshmen.
"Academically, they [the freshman] seem pretty systematic."
Schoolcraft carries themselves at a high level considering they are a team loaded with freshmen.
"I like our improvement. We have our moments of challenges, but we're going to be just fine," Brumfield said. "These are great kids and are poised for great things."