Team Spirit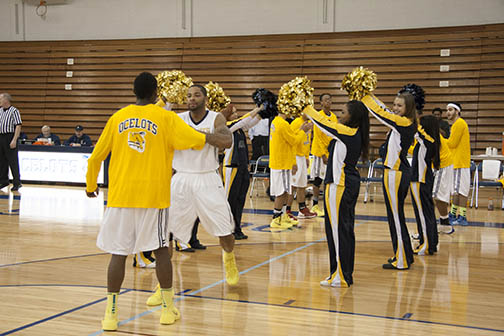 Sixth annual spirit night raises money for Big Brothers Big Sisters
By Evan Paputa
Sports Editor
For the sixth year in a row, Spirit Night allowed the opportunity for the men's and women's basketball teams to showcase their talent and be the main event on campus for a night.
Athletic Director Sid Fox was all smiles following the event that featured the Schoolcraft teams playing host to Kellogg Community College on Nov. 13.
"It was good spirit in the audience and we had good entertainment for everyone," Fox said.
Schoolcraft's Beat Boys performed at halftime with the Dance team.
A $5 entry fee was collected at the door, and special Spirit Night T-Shirts and gift cards were given away to those who bought raffle tickets. Fox enjoyed the way the Schoolcraft community came out and supported the teams in their fundraiser.
"We promote to the community sponsors that normally help us out in events like this," Fox said.
Money raised will be donated to the Big Brother and Big Sister foundations of Metro-Detroit.
"We raised quite a bit of money. From a preliminary standpoint I think we're looking at about thirteen-hundred dollars that we can donate to Big Brothers Big Sisters of Metro Detroit.
Overall the event was a success with the combination of money brought in to the men earning a victory.
"I think it's great. We were on television tonight. The community sees that we're giving back in many different ways not just financially," Fox said. "I'm extremely pleased that everything went well. It was just a fun night."
According to Fox, another Spirit Night-type of event is expected in February.
"We'll do another one in February for breast cancer awareness night," Fox said.