It's the most wonderful time of the year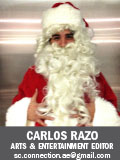 Christmas deserves to be celebrated
Carlos Razo
Arts & Entertainment Editor
Now that Halloween is over, Thanksgiving is the only major holiday remaining until I can pop in my "Perry Como Christmas Album" without judgment. Well, judgment from anyone but myself.
Christmas is just around the corner, and thousands of stores nationwide have already begun putting out decorations to prepare for one of the most anticipated (and debated) holidays celebrated in our society. Whether your 2013 was filled with joy, grief, or a mixture of both, the general belief is that Christmas is a time to put aside strife and embrace the people you love the most; at least, that is what should be expected.
I am not going to defend the consumerism that has driven some people to say "Bah! Humbug!" to this time of year, nor will I discuss its religious origins. Instead, I will encourage you to embrace Christmas as a celebration of giving, aesthetic, and family bonding.
We should always try to surround ourselves with those we love and demonstrate our appreciation for them appropriately, but this time of year specifically challenges us to show it. Many people have gotten carried away with the idea that Christmas is a market designed to produce revenue, but that is not what we should focus on. As an expression of selflessness and appreciation, the act of giving a gift is remarkably symbolic. Many believe that gift giving is the sole reason for the holiday's existence, but it should only be considered a small facet of the festive season.
Christmas also has an unmistakable look and feel; there are streets paved with glistening blankets of white and people bundled up from head to toe making sure Jack Frost does not nip at their nose.
The music (so notoriously debated as to when it is appropriate to begin playing) specifically rouses excitement for the 25th of December, giving people from the world over something to look forward to. While some may disagree, tradition is an irreplaceable part of the family system that adds a sense of structure. Christmas is one of the (if not the) most tradition-specific days people can celebrate. While there are universal activities that many people partake in, such as giving presents, decorating Christmas trees, and caroling, to name a few each family is encouraged to celebrate in their own unique way.
The idea that society can take one day of the year to specifically show our love to our closest friends and family is something that should be celebrated. Even if people do not practice the religious aspects, we should encourage each other to celebrate family and friends—two things we can all support. As days become weeks and weeks become months, it is so easy to get lost in our busy schedules and forget the central fibers of the community: each other. Christmas represents a time when we can focus on just that one aspect and end the year on a positive note.
So how do you plan to celebrate Dec. 25? For many, it will be a joyous occasion that embraces the best aspects of the human spirit. Whether the consumerism has become too much for you, or you start listening to your favorite holiday-themed songs mid-October, Christmas is coming, so happy Christmas to all, and to all a goodnight.