Steady improvement
Co-captains Sewell and Coles direct Men's Basketball team towards success
By Evan Paputa
Sports Editor
Cheers ring out through the P.E. building from 2-4 p.m. every day. The epicenter of the ovation is inside the gym during a Schoolcraft men's basketball practice.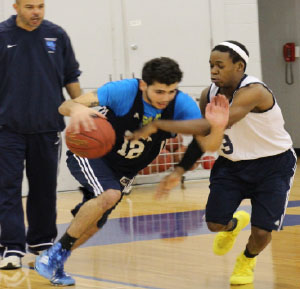 A family atmosphere has settled following last season's 7-20 record. Sophomore co-captains Terrell Sewell and Terrence Coles have spearheaded an effort to improve upon last season thus far this season.
"The record itself represents everything; we were 7-20 last season," Coles said. "Last year people were out for themselves."
Family is a word that Sewell used to describe the way that this year's team is bonding.
"It's bigger than practice. We have a handful of people that do a bunch of things outside of practice," Sewell said. "It builds chemistry. You need chemistry on and off the court to build a family."
More passing and less selfishness with the ball paved the way in the offseason and has carried over into the regular season.
"Everybody knows how to drive and slash to the basket, but drives lead to double teams and that always leaves someone open," Coles said. "We have faith in the open person to hit the open shot."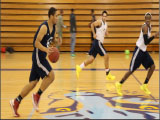 Sewell and Coles saw how last season played out and have made it a point to make sure those who weren't part of it understand and strive for a better season.
"I want to do way better than last season. Hard work and dedication will get us to where we want to be," Sewell said. "These past years there hasn't been a good taste in people's mouth about Schoolcraft Men's Basketball and I want that to change."
"We're all about working together. Terrell and I came in and told the freshmen what happened last year and what we don't want to happen this year," Coles said. "We're more motivated to do right."
Breakdown
The Ocelots are led by seventh year head coach Randy Henry and assistants Vitor Imbruzeiro and Steve Clarmunt.
Offensive tactics Schoolcraft will utilize in the upcoming season include looking to speed-up opponents by controlling the pace of the game and using their smaller size as an advantage, rather than letting it be a disadvantage.
"We're trying to build on movement. We're not a very big team, so we're not a 'walk it up' team," Henry said. "There are three or four options on every play."
Sewell and Drew Mapley are expected to handle the forward/center positions for the Ocelots.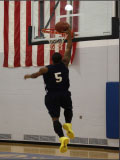 At 6'5" apiece, Mapley and Sewell lead the team in height and are key in the rebounding department. With consistent rebounding from both Mapley and Sewell, the Ocelots should be where they need to be.
"Rebounding is very important in games against teams with guys 6'7 or 6'8," Henry said.
The guards will be spearheaded by freshmen Devanta Riley and Nate Kamal.
"Nate plays defense, really good defense and is a great shooter," Henry said.
Numbers game
In Schoolcraft's season opening 86-60 win against Rochester College J.V., the Ocelots dressed only nine players, six shy of the per-game limit.
"We have some pieces that aren't here right now. We have five or six players that are out for various reasons right now from academics to injuries," Henry said.
Despite the current adversity the team is facing, this year's squad has a lot of potential to grow and become a contender in the MCCAA Eastern Conference.