High expectations
New leadership provides fresh start for Womens Basketball team
By Josh Covert
Staff Writer
The echo of each dribble, the squeak of each shoe on the hardwood—basketball season is here at last.
With the dawn of a new season finally risen, the 2013-14 Schoolcraft Women's Basketball team is eager to return to their winning ways of old under new head coach Kara Kinzer.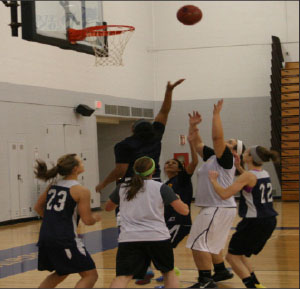 "I just want us to be successful and work hard together," said Kinzer. "I know the past few seasons [the team] hasn't been successful, and that was a goal within the team this year."
The Ocelots have become a mainstay at the front of the pack in recent years after grabbing four consecutive MCCAA championships from 2007 to 2011; a run that included five straight Eastern Conference crowns.
Nonetheless, the players have had no issues buying in to what Kinzer is selling in her first year at the helm.
"She's a good coach," said freshman guard Chelsea Wesley. "We're at a point where we respect what she has to tell us and she respects what we have to say."
As the team works to get acquainted with their new coach, there is still plenty of work to be done on the court, according to Kinzer, starting with team defense.
"[The players] like to hack, like to try to block the shot," said Kinzer. "We aren't recognizing where we need to be yet on the help side, but we're going to get there."
Fortunately enough for the Ocelots, it appears their defensive growing pains may be nullified thanks to a quick-strike offensive attack.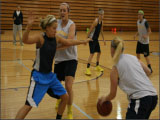 "We have a lot of fast girls, really fast girls, and the chemistry's really good," said freshman guard Sara Gammons.
Klinzer likes her team's offensive ability, but knows that consistency during a game is imperative to winning.
"Our offense, we can score the ball, we can get the ball down the court," said Kinzer. "[But] are we going to be able to do it for 40 minutes?"
The defense will have ample time to catch up to its counterparts before the start of conference play in January. Judging from the way the team practices together and by the way the team encourages one another, it is not unwise to assume the players will improve each day.
Confidence is certainly not lacking either—Gammons went as far to say that Schoolcraft going "all the way" would be atop her list of goals.
Kinzer was a bit more simplistic in her outlook, saying that she wants to first and foremost instill mental toughness into this year's squad.
"One of our goals is to be tough together, have an attitude about ourselves," Kinzer said.
While the jury still remains out on whether this team could win a National Championship, there is no doubt that this basketball program is headed in the right direction.
If the synergy can continue to flow and the defense can tighten a few screws, Schoolcraft is a team that could soon return to the glory days. For the time being, however, the players are happy enough just being back on the court.
"I'm excited about the season," said Gammons. "I'm excited that it's here."