Holding their own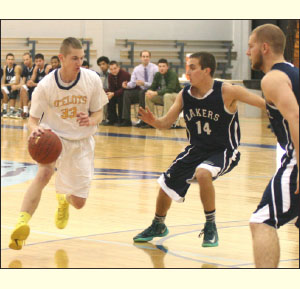 Men's basketball team continues to improve
The Schoolcraft Men's basketball team has won nearly half as many games this season as they had last season. As of Nov. 25, the Schoolcraft Ocelots are 3-3, while last season they finished 7-20.
The Ocelots have won all three of their home games and lost each of their three road games.
Defense falls short in loss to
Mid-Michigan
Nov. 22 Schoolcraft (78) vs.
Mid-Michigan (91)

Although Schoolcraft's offense played extremely well Nov. 22 on the road at Mid-Michigan College, the defense cost the Ocelots the game, giving up nearly 100 points.
The host Lakers defeated Schoolcraft 91-78 and the Ocelots were also hurt by three starters fouling out.
Andrew Mapley (1:13 left), Terrence Coles (0:48 left), Terrell Sewell (0:39 left), and Basal Ibriaham (0:04 left) all fouled out in the final moments of the second half making a Schoolcraft comeback improbable.
The closest Schoolcraft got in the second half was within three at 70-67 with 4:44 left of play.
Coles led the Ocelots with 22 points and Mapley finished second with 19. Nate Kamal and Basal Ibriaham chipped in with 12 and 10 points respectively.
Scoring gap costs Schoolcraft in Ohio
Nov. 16 Schoolcraft (66) vs. Sinclair (76)

Dayton, Ohio's Sinclair Tartans beat Schoolcraft 76-66 on Nov. 16.
Sophomore Terrence Coles led the Ocelots with 22 points in the contest on the road against host Sinclair.
Additional scoring success came from Andrew Mapley (12 points) and Terrell Sewell (10 points) which were the only other Ocelots to reach double figures.
Sinclair's Marquez Carpenter-Mathis made life tough for the Ocelots as he shot 4 for 7 from three-point range and led all scorers with 24 points. Other Tartans in double figures were Trace Cureton (12), Ramar Hairston (11), and C.J. Reed (12).
Schoolcraft out-rebounded the host Tartans 48-47 and were led by Coles with 11 and Sewell with nine.
Spirited victory
Kellogg Community College (72) vs. Schoolcraft (89)

The gymnasium came alive for the annual Spirit Night on campus Nov. 13. Schoolcraft hosted Kellogg Community College on an east meets west cross-conference showdown. The Ocelots out clawed the Bruins 89-72.
Early on, fouls caused both teams to take a more conservative approach to the game.
Kellogg's Robert Aldridge fouled out with 4:58 left in the first half and the teams shot a combined 35 first half free throws.
Terrence Coles and Andrew Mapley each had double-doubles for Schoolcraft. Coles (19 points and 14 rebounds) and Mapley (15 points and 11 rebounds) made their presence known in the paint as the duo grabbed nearly half of Schoolcraft's rebounds.
Every member but one of Schoolcraft's team grabbed at least one rebound and as a team out-rebounded the Bruins 59-38 as a team.
Devanta Riley (15 points), Nate Kamal (14 points), and Basal Ibriahim (11 points) added to Coles and Mapley's double-figure scoring.
Schoolcraft shot a scorching 46.4 percent from the field, but just 42.1 percent from the free throw line with no makes in the second half.