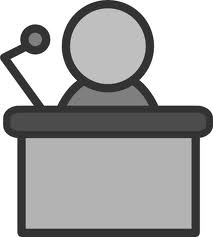 Students vie for communications scholarship
By Pete Helms
Campus Life Editor
Students and faculty gathered in the Liberal Arts building on Friday, Dec. 13 to determine who would win the 2013-2014 Department of Communications Arts Scholarship.
Hosted by department head Dr. JuJuan Taylor, the scholarship aims to award the best speakers the college has to offer. Six students competed for awards of $500, $200, and $150 respectively, and runners-up received awards of $35 towards books in the winter 2014 semester.
Judges included Professor Kathleen Frame of the Communications department, Professor Ida Simmons-Short of the English department, and former scholarship winner Ashi Arora. Miss Arora commented on what an excellent learning opportunity it was for her being on the other side of the podium and having to objectively judge her peers. Contestants were judged on the introduction, body, conclusion, and visuals of their respective speeches, as well as the expression, tone, posture, eye contact, voice, and articulation of their delivery.
Winners included Edward Neiers in first with his speech "Overcoming the Loss of a Loved One and Finding Joy Again," Jazmin Powell in second with her speech "The Power of Earning an Academic Degree in America…The Schoolcraft College (highly Accredited) Way," and China Ramsey-Woods in third with her speech "Bullying in the Professional Arena… An Introduction and Overview." Runners up included Adriana Francavilla, Matthew Koepke, and Jacob Wirick.

*Featured image courtesy of Google Images.