Spring Break Fashion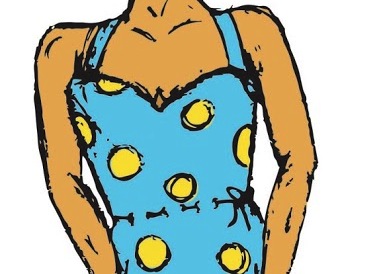 Beaches and Bermudas
Story and Sketches By Camyle Cryderman
Editorial Intern
Spring Break offers not only much needed time away from a rigorous school and personal schedule, but also the perfect time to explore forgotten fashion choices. With the drastic transition from sub-zero temps to tropical climates, the out-of-reach trends will soon be accessible. So pack your bags and be sure to include these essentials.

During the early part of the day when the sun is hot, be sure to wear the proper clothes for sight-seeing. Nothing is more distracting than spending the day tugging at sticky clothes and feeling uncomfortable. Women should keep it simple, wear lengthier, comfortable fitting shorts, and a loose T-shirt or tank top. Stick with airy fabrics to allow for a breeze, and lightweight articles to allow for movement. Men should opt for comfortable shorts and a soft shirt that allows arms to breath. Avoid cotton and other heavy materials to beat the heat, and keep in mind that looking good should not always trump comfort.
When spending countless hours lounging on the sands of the beach, it is important to feel good about clothing choices. A swimsuit is necessary for taking a dip in the water, but do not let style outweigh practicality. Ladies, a modest, yet fashionable swimsuit that shows off personal assets, yet allows unrestricted movement is the best choice. Not everyone will be able to wear the same style, so go with what fits your body and gives you confidence. Choose a high quality fabric and build offering support for your assets that will not ride up in the waves, and remember to bring a flowing beach wrap to cover up with on walks.
Guys, keep in mind the fit of your swim trunks—you want them to be the perfect size, neither too baggy nor too short. Choose a reasonable pair that stays comfortable when wet, yet offers modest styling. Stray away from extremely bright colors and patterns and keep the design somewhat simple, yet with a touch of personality. Do not forget to pack a loose fitting shirt to throw on after a swim.
Rounding out the perfect day of vacation with a night on the town is much more enjoyable with proper clothing choices. Whether going to an exciting dance club, or just out for a nice dinner, it is important to keep in mind the atmosphere when choosing clothing.

A simple sundress allows ladies movement and airflow to help combat the heat in crowded areas. Make sure to choose a reasonable length, avoiding styles too short or too long that require constant adjustment. Make it your own by staying consistent to your style. Find bold patterns such as bright flowers or polka dots, but make sure it is not too busy and distracting.
Gentlemen should look put together, yet relaxed in a classic pair of shorts and a lightweight shirt. Look for a quality pair of tailored shorts, possibly khakis, which still provide comfort. Pair them with a semi-fitted V-neck t-shirt to stay casual yet stylish. Amp up the style by choosing a colorful shirt—do not settle for black or white, explore differing tones of red, blue, or green.
The relaxation and enjoyment found on a tropical Spring Break getaway is the perfect retreat busy students need. Filled with planned adventures and spontaneous ideas, the escapades of Spring Break are exciting, but incorrect clothing choices can ruin all the fun. Keep comfort and sun protection in the front of your mind when choosing what to pack, but do not forsake style and accessibility.
Visit websites such as style.com and GQ.com for even more accessible tips and tricks to help along the way. These suggestions, along with your own sense of style, will allow for a memorable, yet comfortable spring break experience.