Finishing strong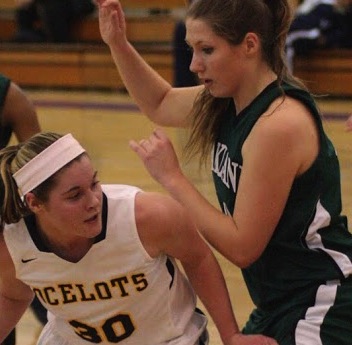 Second half surge seals victory for Ocelots
By Tara Gessler
Staff Writer
After losing to Oakland Community College (3-18, 2-8) 67-85, nearly a month ago, the Ocelots were in search of redemption. On Feb. 5, the Women's Basketball team played host to the Raiders with one goal in mind, and that was to win. Right from tip off, the tempo of play was evenly matched. The Raiders led majority of the first half, but Schoolcraft didn't slow down their intensity as they only trailed by two points throughout the first 20 minutes of play. Despite not playing as hard as they would have liked to, by matching the Raiders offensive press, the team finished the first half only trailing by two points, 30-28.
After returning from the locker room for the second half, the momentum shifted for the Ocelots on the court. The team started pressing defensively on the Raiders. Between both teams, the scoring was evenly paced until sophomore Brianna Berberet tied the game at 37-37, with a 3-point dagger at 16:06 mark. The two squads alternated between scoring offensively while generating strong defense. Schoolcraft sophomore Alexis Smith had nine defensive rebounds to show for herself in the second half. However, OCC didn't back down and continued to press hard. With 14:08 left to go, Berberet sank another 3-point shot (her third for the night) to take the lead, 42-39.
As play continued, Smith drove to the basket and was fouled giving the Ocelots the opportunity to shoot for an extra point increasing the team's lead by six points ,45-39.
Just as it seemed that SC was taking a commanding lead, OCC battled their way back to tie the game at 45-45 with 12:20 to go. Neither team appeared to be showing signs of fatigue, until Smith drained her only three-pointer for the night giving SC the lead. The 3 pointer by Smith proved to be the game changer. During the final six minutes of the game the Ocelots continued pressing offensively as the clock winded down. Schoolcraft went on to defeat the Raiders by 15 points with a score of 72-57. "I think I had a good game and I thought I stepped up when I needed to," Berberet says. Berberet having sank four 3-point shots on the night aided the Ocelots in the victory. "We came into this game very well prepared, practicing their plays, and knew all their moves," Smith says.
The Ocelots second half surge on both sides of the ball,contributed to solidifying the win. "I was very happy with how our team played, especially in the second half. I thought we played well as a whole with everyone contributing and it was great having some players really step up," head coach Kara Kinzer said. Berberet completed her all-around game with 24 points, 10 rebounds, two steals and one assist while freshman Chelsea Wesley had 22 points, eight rebounds, one steal and one assist.
Joining the fight one basket at a time
The Feb. 5 game also marked the sixth annual Pink Zone fundraiser game night. The night was a success giving Schoolcraft a win off the court by raising money and awareness for a great cause. This was not only just a game, but also a night to recognize and support women from all over that have fought beaten and lost to breast cancer. "I love getting the pink shirt to support Pink Zone night and think that this served as a great lesson for kids to get involved for such a great cause," coach Kinzer said. Schoolcraft raised around $1,150 from admission and t-shirt sales that will go toward breast cancer awareness and will be donated to the Play 4Kay fund. This event gave hope to many women out there that are suffering from breast cancer each and every day. For more information on the Play 4Kay organization or how to donate to the cause go to www.play4kay.org