A family divided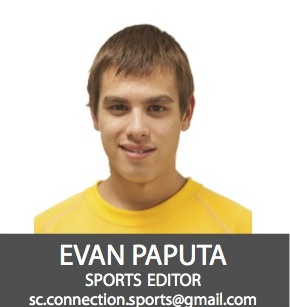 By Evan Paputa
Sports Editor
[email protected]
Southfield High School football standout goes against mother's wishes on signing day Southfield High School senior football player Malik McDowell's announcement to attend Michigan State on the morning of National Signing Day on February 5 was supposed to be the end of the story. However it was only the beginning of a media frenzy and an announcement.
McDowell did not sign his National Letter of Intent which would officially make him a Spartan. Instead, he awkwardly announced his decision in front of a gym packed full of students, faculty, and media- and left it at that. While 17 other student-athletes signed their NLI's with their parents beside them and enormous smiles on their face. McDowell stood there with an upsettling frown on his face with his father there consoling him. The consoling took place after weeks of McDowell's parents publically embarrassing their son by knowingly giving negative quotes about school[s] that Malik was very interested in.
Disappointment
At the end of the day, McDowell chose the school that his mother, Joya Crowe, publically told him not too. Crowe was missing from the Signing Day festivities. She said on 105.1 FM on Tuesday that she did not want her son to attend Michigan State.  She revealed that the reasoning was for something unpleasant that happened during McDowell's visit to Michigan State the previous weekend. A long pause was made by Crowe when asked if it involved one of the Michigan State coaches. Whatever Crowe's reasoning for her absence at Signing Day is irreverent and showed her true colors.
At this point in her and her son's life, the family is supposed to be larger than anything else in the world. Not only was it not, but Crowe showed selfishness while she sent a paining message to her son: she didn't support him going to Michigan State and was so disgusted with whatever happened on the visit, that she didn't care to watch her son sign after she found out earlier that morning that he had decided to pick Michigan State. Instead of being there to support her son, Crowe was somewhere else. The decision to attend Michigan State was made sometime in the early hours of Signing Day according to Malik's father Greg McDowell in a post-commitment interview.
Malik's father made it clear that he wanted his son to go anywhere out of the state of Michigan before Signing Day. But instead of being bitter, he manned up, sat in the front row of the media, and supported his son's decision.   With the household clearly split three ways, Malik had to make a tough decision. He made the decision that his heart told him to make, not that his mother or father told him to.
Lack of support for Malik's decision
McDowell's announcement was the saddest thing I have seen in sports, period. Whether or not McDowell ever does sign his NLI is irrelevant. It's sad to watch how a 17-year old's parents decided not to be supportive before the biggest and toughest decision of his life. While other Southfield student-athletes and their parents basked in the glory of the biggest decision of their life, the 6'7/300 pound mountain of a man, McDowell, did all he could to hold back tears.
Even though McDowell was able to hold his tears, it was obvious what was going on. Smiles were contagious across the gym but never seemed to set in on either McDowells' face. The only smile Malik could muster was when a reporter jokingly asked him for one.
Malik's father stood over his son and consoled him as if his best friend had just passed away in a fatal accident. Mom sounding off on the radio and dad speaking to the papers about Malik in any negative light is bad enough, but for both parents to talk negatively about his choice of his final four dream schools list is absolutely unacceptable and embarrassing for everyone else involved. I for one feel sorry for all that Malik has had to go through in his recruiting process. It is a dire shame that neither his parents could set aside their differences and support their son on the next phase of his athletic and academic journey.