Dry gin and ghostly hijinks
Schoolcraft Theater presents "Blithe Spirit"
By Pete Helms
Campus Life Editor
What's worse than a sassy spirit up to no good? A spirit that happens to be your deceased first wife.
Professor James Hartman and his comedic cast present Noel Coward's farcical occult comedy "Blithe Spirit."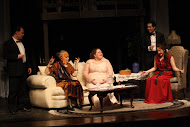 Tommy Patrick Ryan and Elizabeth Tumminello, who both participated in the 2013 production of "Hamlet," return to the stage as Mr. Edward Condomine and second wife Ruth, a well-to-do English couple who invite the whimsical Madame Arcati, played by Cynthia Szczesny in her break-out Schoolcraft role, to perform a séance under false pretenses.
Joined by friends Dr. and Mrs. Bradman, brought to life by returning performers Franz Margitza and Kristen Campbell, things go quickly awry when the group accidentally summon Edward's charmingly sassy deceased first wife Elvira, inspirited by Ronya Rose Mallad. Hijinks ensue as Elvira, invisible and mute to all but Edward and the audience, competes for the affections of her former husband. It is clear to all that she has not encouraged her husband to move on. Meanwhile, Elizabeth Tumminello embodies the classical English gentlewoman, and convinced of her husband's insanity, desperately tries to avoid a scandal. Plot twists abound, and the whole story hinges upon the actions of Edward, the hilarious butler played by Sean Thomas.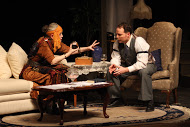 Many of the faces on stage will be familiar, with over half of last semester's cast returning for this production. Not to be hampered by the horrendous winter weather, cast and crew came together to put on yet another stellar show. "This is my 66th or 67th show, and this is one of my favorites," said Hartman. The laugh-out-loud comedy continues the swing up from the more somber and dramatic productions of the last few semesters. The whole cast brings to life the juxtaposition of proper 1940s English demeanor fraught hidden scandal that is sure to enthrall "Downton Abbey" fans while still entertaining those uninitiated to the charms of British comedy.
While any actor can memorize lines, it's the charisma and personality present in this cast that brings the play to life, or rather, unlife. Mallad's slinky, pouty Elvira evokes an archetypal spoiled, carefree princess while it is easy to see and hear the strain in the eyes and voice of Tumminello's Ruth as her husband is quickly overcome by madness. Szczesny brings the perfect blend of ethereal kookiness to Madame Arcati, and Thomas's comically exaggerated gait in the opening seat brings sets the mood right away. Ryan's performance is so authentic, it is not hard to imagine he really does have a nagging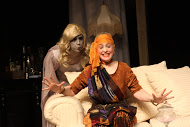 ghost over his shoulder at all times. The veteran cast brings pulse to the dead, and Szczesny, who auditioned "almost as a fluke" brings fresh blood to what she calls a "perfectly sized" cast.
"Blithe Spirit" will be playing a dinner theater show March 21, 22, 28, and 29. Tickets are $27, and include dinner in the Vista Tech Center at 6:30 p.m.; performance-only tickets are also available for $15. Additional shows without dinner will be performed on April 4 and 5, and tickets are $15. All performances begin at 8 p.m. Tickets can be purchased at the Schoolcraft Bookstore or by calling 734-462-4596. This isn't a show to miss!