Must Have Spring Essentials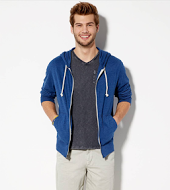 Make room for new spring items in your closet
By Elizabeth Chapa
Staff Writer
Girls
➢      Short boots, Chelsea boots
These boots are all the rage this season. Little booties are exceedingly 'in' this spring. Most booties should have at least a short heel, but a little height never hurt. These pair well with casual outfits, as well as with jeans and a loose fitting t-shirt. If you are going out, Chelsea boots are the perfect accessory to fancy up your look.
➢      Graphic crop top
This type of shirt is extremely versatile.  Dress it down with casual, comfortable leggings, or dress it up with a flowy maxi skirt that hits above the waist to give it an edgy yet chic look. Pair the graphic crop top with a solid color cardigan to keep warm on those chilly spring days. The versatility of this shirt makes it an easy pair with your current wardrobe staples. Many different styles can be found at Forever 21.
➢      Maxi skirts or Midi skirts
Maxi skirts are an essential spring style allowing you to go from casual to dressy in seconds. With spring looming, these skirts will be all over stores. Sheer maxi skirts are nice and light, they pair well with tank tops, either tucked in or cropped. On brisk spring days, throw a cardigan on top to dress it up or go a step further and add a statement necklace. Play up a solid maxi skirt by pairing it with a graphic tank crop top.
Midi skirts call for a classier look, stay away from skin-tight, extremely short skirts that are buried in your closet. Midi skirts have been seen in many runway shows; Kylie Jenner does a great job pulling this off, and she makes it look so simple. It's such an easy look to go from a sweet, casual outfit to a sophisticated, polished outfit. Midi skirts can be worn with plain or patterned crop tops, a tank, or a solid color long sleeve shirt. Try a softer color palette for spring, choosing pastels and florals. Create an easy, layered look by adding a cardigan, denim or leather jacket.
➢      Layering crewnecks with collar shirts
To pull this look off, pair a crewneck t-shirt or sweater over a button up collared shirt. Knit sweaters are perfect for this look, and are an ideal choice for chilly spring days. When pairing a solid crewneck with a plain white button up be sure to add a necklace or scarf for interest. Or pair a solid sweater up with a plaid shirt to add some pattern to your outfit.
Guys
➢      Button-up shirts, denim
This type of shirt offers a casual, yet somewhat dressed up, look. Pair a denim button-up with a classic pair of khakis, or a solid, darker colored shirt with dark colored jeans. Couple a button-up shirt with jeans for casual, comfortable style. A denim button up will come in handy because of its versatility; unbuttoned and layered, mostly buttoned up and layered, buttoned all the way, paired with a cardigan, or worn under a sweater.
➢      Layering v-necks with light zip-ups
Layering is an easy way to look stylish while being casual, as well as utilizing the current contents of your dresser. Layer a simple v-neck with a lightweight zip-up cardigan or fleece. Zip-ups are perfect for spring, when it's too warm for a jacket but too cold for a t-shirt alone. The light material makes this a must-have spring essential.
➢      Oxford style shoes
These are a must-have shoe for guys. The great thing about classic oxford shoes is that they pair perfectly with just about any outfit. Wear them with a sweater and khakis, a v-neck paired with a zip-up and jeans, or a denim shirt and khakis. These shoes take any outfit from bland to stylish.
➢      Rolled jeans
This style gives plain jeans a little more edge and can be done with jeans already in your closet. This look works better with a skinny jean cut, but it's best if the jeans are not skin-tight. Pick a pair skinny enough that when rolled the cuff stays crisp and doesn't look "baggy". To make this look work, only roll once or twice, no higher than mid-calf, but ankle length looks best. This is a fun look for spring; a departure from ordinary jeans. This technique is simple to do and provides a very different look.