Hard work pays off in the end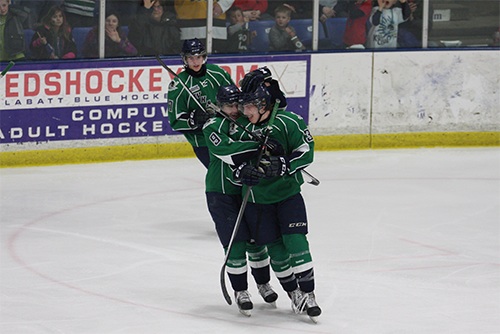 23rd straight year going to the playoffs
By: Tara Gessler
Staff writer 
The Whalers finished the regular season on a strong note as they beat the Windsor Spitfires 4-1 on Sat. March 15. After being down by one goal at the end of the first period, Plymouth managed to capitalize on their chances.
Whaler's defenseman Gianluca Curcuruto scored the first goal for the Whalers late in the second period to get back into the game.
Once the third period rolled around, the floodgates opened while both Vincent Scognamiglio and Liam Dunda had their first goals on their OHL careers putting the score at 3-1.
At the end of the third period, Bryce Yetman put in his second goal on the season for a huge victory. This game was a primer for the playoffs for Plymouth as post season play began March 21.
This will be the 23rd straight year that the Whalers have made it to the playoffs; a huge accomplishment for such a hard working team and program.
Being down by a goal at first, Plymouth worked extremely hard. They challenged Windsor's goalie, Dalen Kuchmey with 45 shots throughout the game and definitely capitalized on four to come from behind and get the win.
The Whalers currently trail the Guelph Storm 2-0 in their first round playoff series. They head back to Plymouth for games three and four at Compuware Arena on March 25 and 26. Both games are slated for 7:00 starts.