Best lunch in town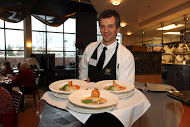 American Harvest wins fifth straight title
By Pete Helms, Jackie Charniga, and Lauren Lukens
Campus Life Editor, Editor in Chief, and Managing Editor
For the fifth consecutive year, Schoolcraft's own American Harvest Restaurant, located in the Vista Tech Center, has won first place in Open Table's annual Diner's Choice awards for Best Lunch in Michigan. It was also granted a Diner's Choice Restaurant award and the Fit of Foodies award.
Open Table is a website that coordinates reservations for over 31,000 restaurants nationwide, and invites its users, both the casual diner and the food critic alike, to review the restaurants they visit. Reviews are accepted only from confirmed diners, and the site creates an aggregate score for all its affiliated restaurants. Currently, the American Harvest Restaurant has an aggregate score of 4.5 of 5 from a total of 82 reviews. Each year, Open Table surveys its users to vote on categories such as Best Lunch, Most Romantic, and Best Service.
User comments on Open Table include such reviews as "Very imaginative & creative taste combinations & the presentations were outstanding. Recommended for couples, small groups, but not young children," from user Gourmetastict and "This is a great dining experience, with a creative seasonal menu and reasonable prices. The Schoolcraft College culinary students gain the experience of food prep in a real-world setting under the direction of their teachers," from user Tanglewood.
Part of what makes the American Harvest Restaurant unique is that it is not your run-of-the-mill upscale eatery. The restaurant is student operated, where aspiring chefs, sauciers, and pastry chefs bustle about to prepare meals that both look and taste great, while at the same time earning valuable experience and knowledge necessary to advance their culinary skills. Supervised by renown master and executive chefs, the students prepare a range of dishes of both foreign and domestic provenance made to excite the palates of the often professional clientele and professional foodies. It is not uncommon to see students being critiqued while patrons dine among them.
Margaret Fleming, the Dining Room instructor, has been with Schoolcraft since 1995. "After going through the program myself, it's an honor to be a part of it now as an instructor."
Fleming teaches students the importance of maintaining the front of the house, which consists of the servers and hostesses, and the back of the house, which includes the preparation of the food. She also instructs students in wine service, customer service, and the process of hiring proper staff, all important for starting a restaurant of their own.
"The Diner's Choice awards set us apart from any other program. We create chefs of the future."
On their busiest days, the American Harvest can see over 60 reservations. Holiday seasons are their busiest, and making reservations is preferred over walk-ins.
The clientele that frequents American Harvest runs the gamut from college students, local businesses, community members, and church groups.
"Our up-scale menu is designed for a distinguished palate," says Fleming. "The plan is for each of our customers to have the ultimate dining experience."
Regulars at American Harvest tend to be steadfast and loyal with their patronage. Frank and Marie Nido have been dining at Schoolcraft since 1993.
"The quality of the food, the presentation—I like it all," said Mrs. Nido.
"This is our third time coming this week. It's changed a little since we started coming, the set-up is a little different. We enjoy meeting all of the kids. "
Food isn't the only thing going for the restaurant; the atmosphere is both inviting yet intimate, serving as the perfect venue for tables of two to twenty. The entryway sweeps into a wide dining room, all of which has a view of the kitchens, which serves as a constant reminder of Schoolcraft's philosophy of openness as well as serving to pique the curiosity of patrons. Large floor-to-ceiling windows allow natural light to bring out the many vibrant colors in the dishes while accenting the ambient lighting of the venue.
Foodies will love the fact that no two menus are ever the same. Students prepare new dishes with every meal, with a handful of more experienced students responsible for any particular entrée, and each menu is a testament to said students' talent and creativity. Patrons William and Elaine Hayes said, "We've been coming here for years and years. Even when it was the old place. We love the food and we take a lot of it home to save ourselves cooking."
The dishes are assigned to meet criteria established by the College's internationally acclaimed culinary staff, and are judged on everything from flavor and presentation. Staff members like Certified Executive Chef Shawn Loving, once the personal chef to the 2008 US Olympic team, are always on hand, using their sharp eyes—and tongues—to make sure everything from food to service is up to par.
According to Mark Waynick, culinary student, his favorite part of the job is, "The different types of people we get in here. We learn a lot from the diversity of the customers that come in."
While it may be difficult for students to enter and succeed in the fast-paced, cut-throat world of culinary arts, Schoolcraft students are blessed to have two Certified Master Chefs, including Brian Beland and Jeffrey Gabriel. Currently, there are only 66 CMCs in the US, and each is accredited through a rigorous process by the American Culinary Federation, and must recertify every five years. Joining them are Certified Executive Chefs (CEC) Shawn Loving, Chris Misiak, Brian Polcyn, Certified Master Pastry Chef Joseph Decker, and Chef Marcus Haight, who is both a CEC and Certified Executive Pastry Chef.
With such talent at the helm, it is no wonder the American Harvest Restaurant has pulled ahead of local competitors such as Andiamo's, Gaucho Steakhouse, and Mitchell's Fish Market. Part of American Harvest's edge is its high quality and low price. For an average of $15 a person at lunch, patrons can enjoy gourmet food, including a beverage and a stunning dessert, though prices can fluctuate. Dinner runs at around $30 a plate and is presented as a large buffet. For less adventurous diners, the dinner buffets are themed, with upcoming selections including European and South American dishes, as well as certain selections on a to-be-determined basis as students complete practical trials.
Everyone is welcome at the American Harvest restaurant, students included. While not required, reservations are highly recommended, as seats fill up fast. The dress code is officially "casual," though the quality of the venue almost begs for a bit more, as most of the clientele is dressed in professional attire. The restaurant is open for lunch Tuesday through Friday with three seatings every fifteen minutes starting at 11:45. Seating opens for dinner at 5:30 p.m. The restaurant is closed Saturday through Monday, and on select dates, which are subject to change. Whether you are a foodie in search of a new experience or simply looking for an amazing meal that won't break the bank, the American Harvest Restaurant is for you. For reservations, visit opentable.com or call 734 462 4488.