Mashhour 'rejuvenated' at Schoolcraft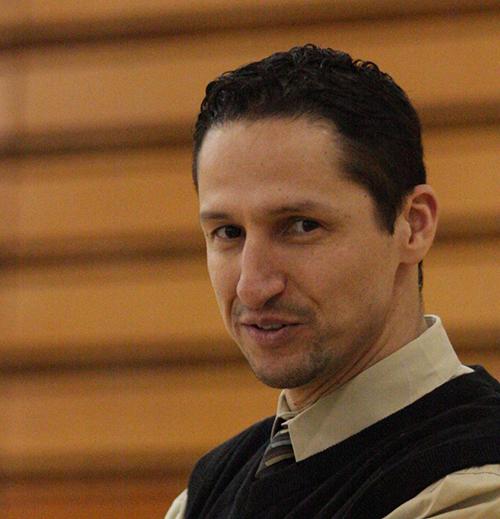 New men's basketball coach relishing fresh start
By Evan Paputa
Sports Editor
Schoolcraft wasted little time in finding the successor to former men's basketball head coach Randy Henry.
Athletic Director Sid Fox announced that Abe Mashhour had been hired as the new men's basketball coach in a press release on March 14.
"Schoolcraft College welcomes Abe with open arms to continue his successful coaching career here in Livonia," Fox stated in the release.

Mashhour comes to Schoolcraft after being the head coach at Henry Ford Community College since 1999 and compiled a 246-156 record. With Mashhour, Henry Ford finished 12-17 overall in 2013-14 and tied for sixth at 7-11 in the MCCAA's Eastern Conference.
In 2008-09, Mashhour coached the Hawks to the MCCAA and NJCAA District 9 championships, as well as a berth in the NJCAA Division II National Tournament (in Danville, Ill.).
"I've been coaching for a long time. This has rejuvenated me more than I can tell you," Mashhour said. "I feel terrific about everything, working with Calli [Crawford] and Mr. [Sid] Fox is beyond a pleasure."
Fox made the decision to hire Mashhour just a week after Henry announced his resignation.
Fox had been impressed with Mashhour's class and player management from watching him compete against Schoolcraft over the years.
"He has always impressed me with his capacity to recruit, coach and manage his players at an optimum level," commented Fox.
Masshour, 42, resides in Dearborn with wife and six children, where he serves as the Director of Student Services and Overall Athletic Director for all of the high schools and middle schools for the Dearborn Public Schools.
Putting a roster together
The hardest part for any newly hired coach is putting together a team of cohesive players in a short amount of time.
Signing day for the NJCAA is on April 8 and Mashhour has a very short time to put a recruiting class together.
Recruiting has been an issue for Schoolcraft teams of past, not being able to secure players with the talent to play at higher levels.
"We have to recruit good players and develop the players we have. We have to recruit better talent," Mashhour said.
Mashhour knows that building a roster is more than getting the most talented players, but all about getting the right combination of skill and work ethic.
"We want a good mix of players, role players that accept their situation," Mashhour said. "We have some of the kids that played for me at Henry Ford are going to come over and join this team."
Mashhour noted that Schoolcraft will hold an open tryout in on April 12 to attract all interested players.
"We are having a tryout Saturday, April 12 that is open to as many people that want to be here," Mashhour said.
Mashhour will be augmented by assistant coaches Mike Allie, Corey McKendry, and Seth Coffing, who were a part of his staff while head coach at Henry Ford.