Students showcase talent at annual art show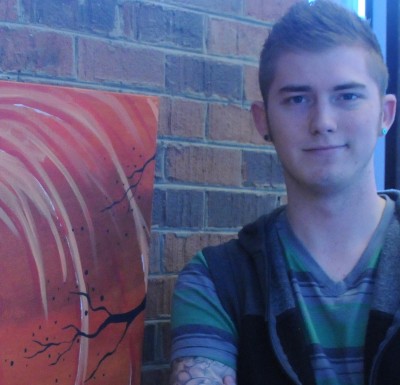 College artists celebrated for their work
By Jackie Charniga
Editor in Chief
On April 9, the Art and Design Department held its annual art open house, where artwork produced by students from the Fall 2013 and Winter 2014 studio courses was on display throughout the hall of the Forum building.
The show was juried, meaning that the pieces were judged before submission based on technical skill and aesthetic appeal. "Not all that were submitted were accepted into the show," said Sarah Olson, Head of the Art Department and coordinator of the event.

The selections on display encompassed a variety of mediums, including metal sculptures, acrylic paintings, woodwork, and drawings utilizing a Conté crayon, which is a clay and charcoal tool. The show determined the winners of eight Faculty Merit Awards and four Viewer's Choice awards, which were judged by attendees. Up to $1,000 in scholarship awards were up for grabs.
Artist Danny Range refers to his most notable piece, entitled "I Stopped to Smell," as being, "the painting of some roses."
"[My friend's] grandfather had brought this rosebush back with him from Europe." Thinking back on his inspiration, Range said, "and has kept it alive for almost a hundred years."
Painting II student Ryan Rokov describes his painting, "Twisted Growth", as being an abstract work. "Abstract is more fun for me, more freeing." Rokov had an additional painting entered as well, entitled "Moving On".

Winter 2014 Painting I student Gina Thomas said she was impressed by the various three-dimensional pieces in the art show. "Of the particular pieces that got accepted, there were a good variety of materials used. You can see the use of metal, wood, clay, limestone, multi-media, foam, and pastels. I like how the pieces showed the diversity of materials used by the students."
Thomas' paintings "Tom Waits" and "Sunrise," were both featured in the show. Thomas prefers a stencil style of portrait painting as portrayed in her piece "Tom Waits", and an impressionistic style of landscape painting as revealed in "Sunrise."
The art show is an example of how Schoolcraft students can showcase their work and gain recognition for their talents.


Six Viewer's Choice Awards of $50.00 (listed alphabetically by last name):
-Jessica Courtney, "Untitled" Ceramic Wall Relief Diptych (Adjunct Professor Robert Bielat)
-Jennifer Engels, "Elephant Graveyard", Rubbing on silk, 16" x 20", (Adjunct Professor Ellen Moucoulis)
-Daniel Range, "Stop to Smell", Mixed Media Acrylic Painting of a Rose, "30 x 40", (Professor Sarah Olson)
-Lori Mazzocco, "Untitled" Pencil Study of a purse, 18" x 24" (Adjunct Professor Stephanie Sarris)
-Ryan Rockov, "Moving On" Painting Diptypch, 16" x 40" (Professor Sarah Olson)
-Erica Wilson, "Untitled", Wire Portrait,  20" x 20"  (Professor Sarah Olson)

Eight Faculty Merit Awards of $100.00 (listed alphabetically by last name):
-Braden Davies, "Jaws", Mixed Media portrait of a goldfish, 24" x 36", (Professor Sarah Olson)
-Fred Keebler, "The 12 Eyes of Snake Eyes – No. 2", An illusionistic painting using Acrylic on Canvas, 20" x 30", (Professor Sarah Olson)
-Yaquti Marvi, "Birds of Prey", Acrylic on Canvas, 40" x 40",  (Professor Sarah Olson)
-Andrew Morawski, "Untitled", Mixed Media Vertical Sculpture, 8' tall, (Professor Sarah Olson)
-Tyler Osgood, "Septic", Pastel and Watercolor, 6' x 9', (Adjunct Professor Ellen Moucoulis)
-Sylwia Pigon, "Little Vincent's Chair", 3D homage to Vincent Van Gogh, Mixed Media 2' x 2' x 2', (Professor Sarah Olson)
-Aaron Toma, "Homage to Escher", Mixed media, 3D, 1'x 1' x 1'  (Professor Sarah Olson)
-Kristin Warde,  "Phoenix",  Pastel and Watercolor, 6' x 9', (Adjunct Professor Ellen Moucoulis)