Thankfulness abounding
Students lend a helping hand to those in need
By Katie Miller
Staff Writer
The struggles that thousands of Metro Detroiters are having each day include difficulties like finding food, shelter and clothing; which many college students take for granted. Once a month student volunteers from Schoolcraft and Oakland Community College join together to lend a hand at St. Leo's Soup Kitchen in Detroit.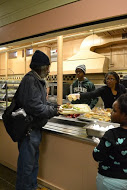 On Saturday Nov. 25, St. Leo's Soup Kitchen welcomed many people in need. The volunteering day started at 8 a.m. and ended at 1 p.m. with food served at 11 a.m. Volunteers came from Schoolcraft College and Oakland Community College to put out clothing, prepare the food, make sandwiches, serve meals and clean trays. "There are volunteer doctors who operate in the soup kitchen, both dental and medical. Another group, the DAC [Developmental Assistance Committee] is responsible for housing those who don't have homes and for helping people get their license back," said Chris Williams, the soup kitchen manager of two years.
The soup kitchen has operated since 1937.
"What I enjoy is going and taking the time to help those who don't have normality in life. It's really eye opening. I've never had that experience until I joined Phi Theta Kappa," said McKenzie Hayes, PTK president.
Volunteering is important because it helps others. Many people do not think about those who go hungry while dining at one of the many fast food restaurants available to them or sitting at the family dinner table.
"It's always a good feeling to see people volunteering. I got my niece and my nephew volunteering because it is important to be able to give back," said Karmen Thomas, a student at Oakland Community who has been volunteering at St. Leo's for about a year. "We need more volunteers, so people understand that there are those that are less fortunate than us and it is important to help whenever you can."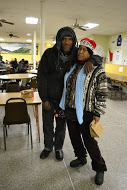 "Some of the stuff [at St. Leo's] you can't get for yourself, and other people can help you," said 52-year-old Kim Johnson who has been going to the soup kitchen for support ever since she was a kid. "It makes me feel good that the city of Detroit has volunteers to help people that are hungry. You all help anybody that you can in the city of Detroit."
St. Leo's home is in one of the many beautiful, historical churches in Detroit; however, it offers a unique opportunity to all attendees—volunteers and those in need. It is much more than just a soup kitchen for many. Volunteers and those fed are both eager to return to the building where friendships are built and often invite more to join. For those thinking about volunteering, St. Leo's is having its Christmas event on Dec. 13, and it is the busiest time of the year for the soup kitchen. Members of Phi Theta Kappa will earn a star for volunteering.
St. Leo's, which is located at 4860 15th St. in Detroit, invites volunteers everyday they are open, Tuesday through Saturday. Those interested may contact the organization at 313- 894-0357.