Iggy Azalea re-release
Album relies on other artists for exceptional tracks
By Amanda Kochanowski
Staff Writer
3 out of 5 stars
On Nov. 24, the singer of the hit song "Fancy," Iggy Azalea, re-released her debut album "The New Classic" as "Reclassified." While the singer has had success on the singles charts, it is all due to the artists featured on the songs.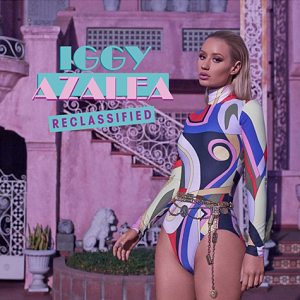 Released under Virgin EMI Records, "Reclassified" features the biggest hits from Azalea's first record, such as "Fancy," "Change Your Life" and "Black Widow." The songs feature fellow artists Charli XCX, T.I. and Rita Ora. "Reclassified" also includes "Work" and "Don't Need Y'all," which were both on the artist's debut album.
Seven new tracks from Azalea appear on "Reclassified." A few of the new songs, "Trouble" and "Heavy Crown," feature Jennifer Hudson and Ellie Goulding.
"Trouble" brings the jazz sound of Hudson to Azalea's album. The song is fast-paced and sounds somewhat strange with the combination of rap and jazz styles. The two singers both have unique voices, but do not blend well together. The tune feels out of place among Azalea's rap verses and hip-hop instrumentals.
Ellie Goulding blends much better with Azalea in "Heavy Crown." Azalea seems to have found the equation for a hit—including a pop artist on a track to compliment her rapping. The song is bound to be a huge success and soars past the sound of "Fancy." Goulding's beautiful voice and a medium tempo chorus add up to a huge achievement that listeners are likely to see on the singles chart in 2015.
Azalea shows her questionable strength as a solo artist on new song "Bounce." The track has a strong beat, which is the only enjoyable element of the song. Azalea's rapping is sub-par and sounds the same on every track. Overall, the song falls short and shows Azalea needs support from other artists to succeed.
Azalea also filled the opposite role when recently featured on the tracks "Booty" and "Acting Like That" by Jennifer Lopez. The pair performed "Booty" for the American Music Awards on Nov. 23, closing out the show. "Booty" peaked at No. 18 on Billboard's Hot 100 chart.
Overall, Azalea seems to have small successes on her own, but has been able to break through to the charts only on the backs of other established singers. "Reclassified" shows this quite clearly, with half of its tracks having a featured artist.
Azalea's latest album is available for purchase on iTunes and in stores. To find out more, visit www.iggyazalea.com.