Drone zone
Michigan State Police updates equipment for public safety
BY ELAINE GEROU
MANAGING EDITOR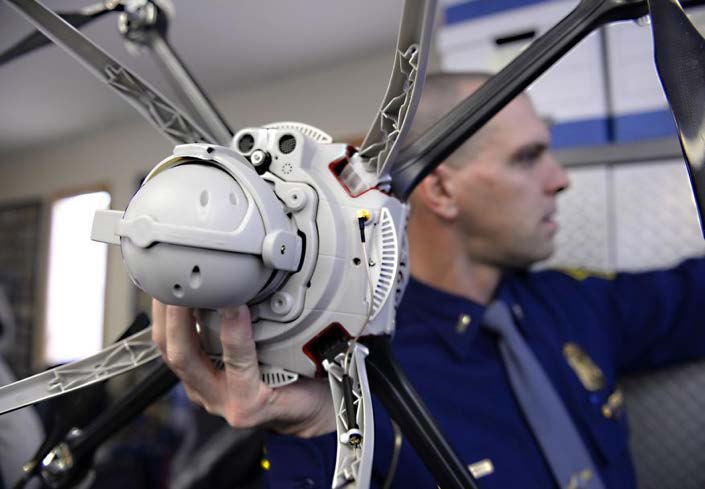 Michigan State Police now have the authorization from the Federal Aviation Administration (FAA) to fly drones, also known as unmanned aircrafts, to support public safety. This makes the Michigan State Police the first state police force in the nation to fly drones with high definition cameras.
The drones should help reduce the amount of time it takes to survey and reconstruct major crash scenes, inspect natural disasters, conduct surveillance and search for missing people.
"In the future, you can fly it over that [crash scenes] and relay [the information] to the fire department," said Chris Bush, Commander of Field Support and Aviation at the Michigan State Police, to The Detroit News.
Efficient, reliable safety can come at a hefty price. The state police's Aeryon SkyRanger drone cost $158,000 in September 2013 and was purchased from Aeryon Labs, a Canadian company, with a grant from the U.S. Department of Homeland Security.
Of course there are several rules to be followed when it comes to flying unmanned objects, so only a handful of police agencies across the country have been granted the licenses to fly drones by the FAA. The FAA must register pilots; and there must always be a two-person crew, one being a safety observer, one flying the drone. Drones must also stay under 400 feet high, while being within line of sight of the crew, and they cannot be flown within five miles of an airport unless permission is granted for specific emergency cases.
There are also some weather limitations to the drones. They can only handle light rain, and the Aeryon SkyRanger also cannot fly in winds stronger than 55 mph, but should not be flown in gusts higher than 40 mph. One battery charge can fly the drone for 50 minutes and has a range of several miles. The testing of the drones has been taking place at the department's Precision Driving Unit track in Lansing.
Schoolcraft student Kyle Wilson supports the use of drones by Michigan's State Police.
"I think it's a good idea because it takes the risk off the police being down there [in fiery crash scenes] taking pictures," said Wilson.
Although there are benefits, some are concerned about privacy issues. Former State Representative Tom McMillin sponsored legislation to ensure regulation of police drone use when he was in office, because the current law covers problems such as trespassing and Peeping Toms, but does not address police abuse. That legislation did not pass, but now with increased drone use, McMillin said several legislators are interested in the topic.
"I really wanted to make sure there is reporting on how it's being used," said McMillin. "We don't just want them flying around watching people."
Hopefully the drones accomplish only what they are meant for: surveying, finding missing people, documenting crash scenes and inspecting natural disasters. Time will tell if the use of drones generates better law enforcement or more controversy.