Uncle Sam brings neopolitan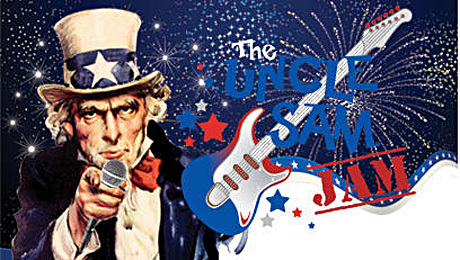 Fifth annual Uncle Sam Jam offers a bit of everything to the party
By Austin Vicars
Staff Writer
Nothing says washed up quite like national acts playing local carnivals. Luckily for dads everywhere, Uncle Sam Jam, an annual festival hosted in at Civic Center Park in the city of Woodhaven, featured enough washed up acts to clean a carnival porta-potty.
The free festival hosted a variety of carnival rides, games, live music, food and fireworks from Thursday, July 9, to Sunday, July 12.
Brett Michaels, Toadies, Everclear, Fuel, American Hi-Fi, Fifty Amp Fuse and Larry Lee & The Back In The Day Band headlined the four-day festival, while several local acts opened.
These headliners may have been shining stars in their day, but that time has come and gone. Watching a middle-aged Everclear on Friday night was the equivalent to watching a Viagra or Just For Men commercial. The old timers' once exciting brand of alternative rock has grown stale over the years. From their gray hair to their matching black clothes, father time has not been kind to Everclear.
Everclear's live performance was subpar at best. The band had a limited stage presence and sounded out of sync at times. Even with Everclear's mediocre performance, the band seemed to resonate with fans young and old. The show had a laid back vibe, as attendees enjoyed the free concert.
Despite Everclear giving a performance as gray as their hair, Toadies played a solid set of '90s hits, as well as some newer tunes. Toadies' set was tight and musical, showing that the band still has a little bit of gas in the tank after all these years. The band's combination of emotional, acoustic ballads and hard-rocking grunge tunes made for an impressive showing.
Toadies were not the only grunge band at the party though. Livonia's own, Blind Season,also performed. Blind Season started off 2015 with a bang, recording their EP "This Won't Be Easy" with former Pearl Jam and Asking Alexandria producer Chuck Alkazian. Now, just a few months later, the band is opened for national act Brett Michaels Saturday night. Playing with national acts is nothing new for the youngsters though, who previously have opened for Asking Alexandria, Sevendust and Alien Ant Farm.
Blind Season bass player Mike Paraski said his favorite part of the festival was, "Playing to new people."
Uncle Sam Jam had entertainment for all ages. Families, teenagers, young adults and seniors enjoyed themselves. From the fireworks to the carnival rides, Sam Jam was a good time for everyone.
Kyle Schmitt from Livonia said, "My favorite part about Sam Jam would have to be the fireworks."
People of Woodhaven and all over Southeast Michigan came to enjoy the four-day festival and show their patriotism. Uncle Sam Jam was quality summer fun for attendees young and old. The festival's fireworks ended the show with a literal bang, which illuminated the night sky and attendees faces.
Uncle Sam Jam 2015 is in the books, but that does not mean Michiganders do not have any live music to look forward to the rest of the summer. Fans can look forward to Blind Season's shows on Aug. 2 at the Gratiot Cruise in Clinton Township and Aug. 30 at The Fillmore in Detroit.