August Burns Red continues to push the envelope of metalcore
August Burns Red continues to push the envelope of metalcore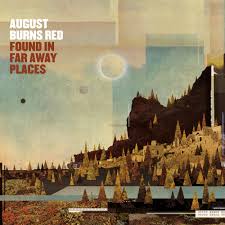 By Austin Vicars
Staff Writer
Rating: 8.5/10
On June 29, August Burns Red released their seventh LP "Found In Far Away Places." The album was the follow up to 2013's "Rescue & Restore" and the band's first release on their new label home, Fearless Records. August Burns Red is often looked at as one of the best bands in metalcore, but in such a crowded genre, can August Burns Red reign king?
Over the course of their 12-year career, August Burns Red has been nothing but consistent. With each release, the band has pushed themselves as musicians and songwriters. The story remains the same, as "Found In Far Away Places" is another impressive addition to the band's discography.
"Found In Far Away Places" showcases August Burns Red expanding upon the progressive ideology found in "Rescue & Restore," and at times, they dive into post rock waters. The band has not abandoned their signature metalcore sound, but instead expanded upon it with these new musical ideas.
"Found In Far Away Places" is heavy, dark and technically impressive. Lyrics like, "If a rich man can't get into heaven, where will you dwell / If a rich man can't ascend, will I see you in hell?" blend with sporadic riffs and pounding drums to create an intense atmosphere throughout. The songs are varied, with crushing opener "The Wake," proggy "Majoring In The Minors," catchy chorused "Ghosts" and post-rock influenced "Blackwood." This album has a little bit of everything.
Guitarist JB Brubaker and Brent Rambler lend the album soaring leads, heavy riffs and dynamic solos, showcasing themselves to be more than capable guitarists. Sticks man Matt Greiner plays driving blast beats, pummeling breakdowns and vigorous drum fill. Greiner again proves himself to be one of the best drummers in metalcore. While low in the mix, bassist Dustin Davidson lays down solid bass lines when audible. Vocalist Jake Luhrs uses several vocal techniques including high and low screams, spoken word and a sing/scream technique, new to August Burns Red's music. In addition to playing bass, Davidson also lends backing screams in support of Luhrs.
Upon pushing themselves musically, August Burns Red brings in additional instruments and vocals. The band shares the spotlight with Between The Buried And Me guitarist Paul Waggoner and A Day To Remember vocalist Jeremy Mckinnon on "Everlasting Ending" and "Ghosts."
Waggoner and Mckinnon come from very different musical backgrounds, but both features work well. Waggoner lays down a splendid solo on "Everlasting Ending," and Mckinnon's singing on "Ghosts" is one of the album's catchiest sections.
"Found In Far Away Places" is a complete package. Right from the word "go," the album moves along smoothly without any hiccups. Every song brings something different to the table and possesses its own unique qualities. August Burns Red continues to push the boundaries of metalcore and remain one of the best bands in the genre.