It can wait
Students get reality check with texting-while-driving simulator
By Donovan Sheehan
Staff Writer

On Tuesday, Sept. 1, students, faculty and staff will have the opportunity to experience the dangers of texting while driving firsthand, with the help of the Aware TXT simulator. As part of this year's Welcome Week, students will be able to use a virtual reality simulation to attempt to drive safely and avoid obstacles while texting. The simulator will be located between the Forum and Liberal Arts Building, from 10 a.m. to 4 p.m.
"It's like an actual car," said Todd Stowell, Director of Student Activities, describing the simulator. "You take out your phone, and try to drive."
Stowell and the Student Activities Board are organizing the event with the hope that it will teach students a valuable lesson about the danger of texting while driving, a danger that particularly impacts young adults.
"You can see in statistics, this is a problem," said Stowell.
Automobile accidents, whether from texting or otherwise, are the leading cause of death among Americans sixteen to twenty.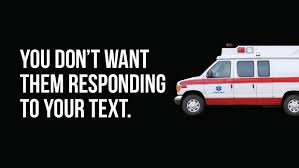 "Since we're a community campus, people are driving quite often," said Stowell. "We want to do a good public service."
The Aware TXT simulator itself is made up of a virtual reality headset connected to both a real car and TV screens, so that other students can watch the simulation as it happens. Developed by PEERS Awareness and Cutting Edge Productions Inc. (CEP), the simulator has toured the country for several years and visited hundreds of schools.
"I feel like it's a safe way for drivers to react to the dangers of texting and driving," said Sean Weyers, an incoming freshman. "It's a very smart way of trying to tackle that problem."
Schoolcraft has never hosted a texting-while-driving simulator before, but Stowell said that it's similar to the drinking and driving event from previous years. Like the old event, Stowell hopes the simulator shows students the importance of driving safely.
"It's in good fun," said Stowell, "but some of these things could save a life."
The Aware TXT simulator is just one of the events happening this week during Welcome Week on campus.


Other activities include, a presentation by the Disc Dogs of Michigan on Monday from 10:30 to 11 a.m., games of knockerball on Wednesday from 10 a.m. to 2 p.m. and an inflatable jousting game on Thursday, from 10 a.m. to 2 p.m. There will also be games of volleyball, paddleball, ladder ball and frisbee available all four days, as well as a DJ. A Kona Ice Truck will be visiting Monday and Thursday, and free Biggby coffee will be available Tuesday and Wednesday serving beverages.
"Welcome Week activities are an important opportunity for students to get connected with the campus and to meet other students," said Stacey Stover, Associate Dean of Admissions and Student Engagement. "We hope that by offering a variety of opportunities, students will find out about the variety of activities and services available at Schoolcraft."
The texting-and-driving simulator and other activities are sponsored by both campus organizations and outside businesses from Food Services, Student Activities and the Bookstore to Sprint, Pepsi and Buffalo Wild Wings.
"We are proud of the Schoolcraft College departments and local businesses that have helped sponsor this event," said Stover. "Their support shows the commitment to students on campus and in the community."
All students, staff and faculty are welcome to participate in this year's festivities. For more information on Welcome Week, go to http://www.schoolcraft.edu/campus-life/student-activities#.VeKTZ2CkLap.