Cooking up degrees
College now offers a four-year culinary bachelor degree 
BY ELAINE GEROU 
EDITOR-IN-CHIEF 


After years of researching, developing and planning, Schoolcraft is now offering something new this fall: a bachelor's degree program.
Featured through the Culinary Arts department, the Culinary and Dietary Operations Management Bachelor of Science degree is designed for advance culinary students who wish to pursue a four-year degree that will lead them to management positions in the food and nutrition industry. This is cutting edge for the college, as no other traditional two-year institution in Michigan offers this specific degree in which the Higher Learning Commission approved this year.
"It's an incredibly valuable program with an excellent curriculum design," said Rich Weinkauf, Vice President and Chief Academic Officer. "This will really help them move up into management at almost any large property or large corporation or even start their own business. This program should give students the tools to go out and start their own restaurant or consulting businesses."
Actual cooking will not be the focus of the curriculum, as this bachelor degree is a "2+2" program, meaning students entering into the program will be required to already have a two-year associate degree in Culinary Arts from an American Culinary Federation accredited program. Instead the first course, CAP 303, will be an assessment of all interested students to make sure they meet Schoolcraft's standards in knife skills, charcuterie, butchery and baking and pastry making skills. The program, focuses on the professional skillsets needed to manage, interview and discipline, in addition to teaching about adapting to the evolving diets of customers.
"The curriculum was approximately a two-year process of which Chef Chris Misiak put in all the time necessary for this program. He along with the Office of Curriculum and Assessment did many studies on the market and what would be a great way to build not only a bachelors degree program, but one that would sustain the market and stay strong for years to come," said Certified Executive Chef Shawn Loving, Department Chair for Culinary Arts and full time instructor.
The research and development put into generating the program took years of planning.
"We've been gathering information, doing environmental scans, looking at job opportunities, talking to people in the industry who would be hiring these students, asking them what kind of competencies and skillsets were more important, using our advisory board, what the ACF [American Culinary Federation] requires for their four year degree, so we used a lot of research in order to determine exactly what skillsets [were needed], and we built course work around that," Chef Chris Misiak, Culinary Arts Program Coordinator said. "You are talking about a student's life. You don't want to just put anything together; you want to do it right. You want it to be valuable to the student."
To build the curriculum, there were several departments at Schoolcraft involved; including English, math and business, to ensure the higher skill sets needed for students would be taught at the 300 and 400 level courses.
The Office of Curriculum and Assessment aided in writing the actual documents of the program to make sure all the requirements of the Higher Learning Committee and American Culinary Federation were met.
"The four-year program is very complex, and without the help of the wonderful, talented people in the Office of Curriculum and Assessment, we never would have made the strides that we have in the program," said Chef Misiak.
One aspect Schoolcraft chose to emphasize in the curriculum was nutrition due to rise in allergens, diseases and health awareness in today's society..
"The industry is changing. People are becoming smart about what they eat, when they eat [and] diets that are healthy. We're being proactive in knowing this will be the norm and not the exception in a few years," Misiak said. "They're [the students] going to have to know these things in order to be successful."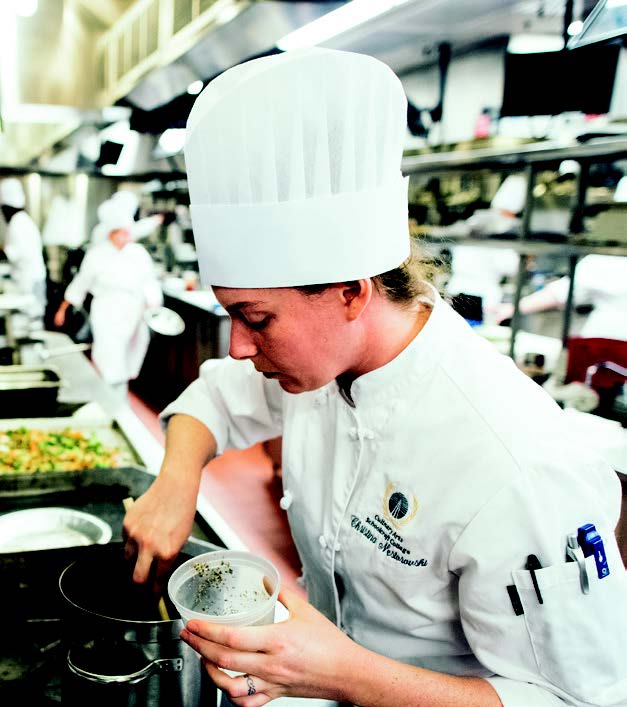 With the two-year culinary program at Schoolcraft being one of the most prestigious in the nation, Chefs Loving and Misiak want to ensure the standards remain high.
"We want the four-year curriculum to be at the high set of standards we have already set for the two-year curriculum, and we feel that that level will create a four-year graduate that can have the same kind of success stories that our 200-level students are having right now," said Misiak.
Culinary graduates of the associate's degree programs have benefited from the two-year program. All of the businesses interviewed were actually businesses ran by Schoolcraft graduates.
Culinary Arts student, Jake Draves, who is enrolled in the two-year culinary associates program said, "I think it is both good for the students and the college [to offer a four-year degree]. I think the college can definitely use it as something to garnish more students, be more attractive to potential culinary students to get more experience in a better program."
With the addition of this program, additional staffing will be needed, both full-time and part-time. Emily Camiener, a Registered Dietitian Nutritionist and Master of Public Health with clinical dietitian experience at both the Oakwood Hospital and Henry Ford Hospital West Bloomfield, was hired full-time this fall to teach nutrition in the program.
"My passion for integrating food, wellness and nutrition will be shared with my students as they activate the skills needed for Chefs to run nutrition and dietary focused kitchens and facilities," Camiener said. "Students will be prepared to understand today's most recent nutrition information and become a culinary nutrition "expert" –distinguishing fact from fiction, myth from science, and how to integrate a food sustainability perspective-so how to run a more "Green kitchen", to how to prepare and run a more "nutrition focused" kitchen in a hospital, hotel or grocery."
Currently, assessment courses are limited to 16 students, but if demand increases, as many as 96 students could be taught in one semester by adding more sections.
Through the addition of the Culinary and Dietary Operations Management Bachelor of Science degree, Schoolcraft continues to demonstrate its dedication to empowering its students by providing them with the training for in demand jobs of the future. Interested students should contact a counselor or academic advisor to enroll. More information regarding the degree, a sample plan, coursework and outlook can be found at http:// www.schoolcraft.edu/major/ culinary-arts/culinary-and-dietary-operations-management/ culinary-and-dietary-operations-management-bs-degree#. Vfhm9vPD9aQ.