The magic of science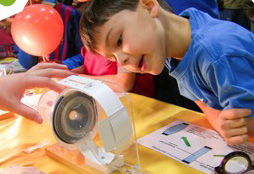 Mind Trekkers STEM Road Show brings the WOW! of science to campus 
BY ELIZABETH CHAPA
ONLINE EDITOR


Excitement and education coexisting is often unbelievable or impossible for many students, but Schoolcraft College has partnered with Michigan Technological University and other corporate sponsors to present Mind Trekkers, a science fair that is known to be extraordinary. The event will take place on Schoolcraft's campus on Friday, Oct. 9, from 9 a.m. to 2:30 p.m. and Saturday, Oct. 10, from 9 a.m. to 3 p.m. Friday will only be open to the middle schools in surrounding districts, while Saturday is open to the public at no cost.
An estimated 5,000 middle school students will attend and explore Schoolcraft's campus during the event to view a wide variety of sciences including technology, engineering and mathematics, also known as STEM. Attendees will experience and learn about what can be done with STEM, including career opportunities.
Many students, especially at younger ages, struggle in the STEM categories. They look at those subjects as difficult and something they can never excel in. Mind Trekkers demonstrates to them it does not have to be that way. The interactive program shows students they are capable of being successful in any STEM related field. Not only does this event have a way to show how interesting some of the surrounding aspects that come from STEM are, but it also exposes kids to the amusing side of math and science.
Michigan Technological University collaborated with countless companies in hopes of getting kids excited about science. This was done at a day-long event in Michigan known as the YES! Expo.
Children were given the opportunity to experience many STEM aspects hands on. While the kids learned about science, they also had fun. From there, the idea of Mind Trekkers was created.
Mind Trekkers is better understood as a traveling concert or carnival mixed with science.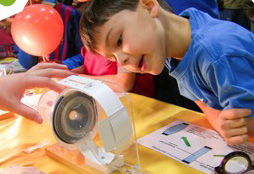 In a documentary on Youtube by Daena Makela, Cody Kangas, now Director of Summer Youth Programs at Michigan Technological University explained, "Mind Trekkers is a science, technology, engineering and math road show. It's kind of a big concert of sort; it's a carnival—it's a circus. It's all that stuff smashed into one big monster, and it's a science and engineering rock show."
Mind Trekkers wants to emphasize putting more energy into exposing STEM education and being the initiative to create an interest for children, which in the long run could make a huge impact on their lives.
"With opportunities abounding in STEM careers, we are very excited to show middle school students what those opportunities are and show them how Schoolcraft can help them achieve this goal," said Charles Hayes, the Associate Dean of Science.
It is vital for Schoolcraft to come together as a community to take part in this event. Schoolcraft is still in search of volunteers for Mind Trekkers, so consider lending a hand. Any aspect of volunteering is helpful, including managing demonstrations and giving tours to middle school students and families. If interested in volunteering, please sign up at http://goo.gl/ forms/5TyBJRDH9U.