Taking violence off the field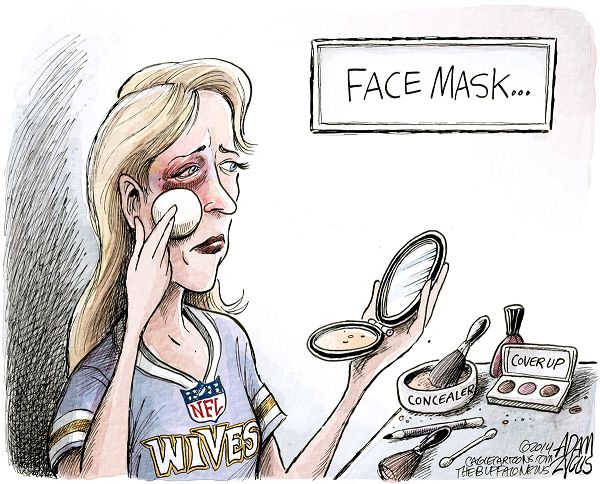 Professional leagues too lenient on domestic violence


A female almost beaten to death by a UFC fighter, the fiancée of an NFL running back assaulted senselessly in an elevator and a 4-year-old child beaten by his father with a tree branch are just a few of the recent headlines revolving around the issue of domestic violence in sports in the recent year.
The average, everyday citizen is punished for crimes like this, facing jail time and fines; however, in professional sports, athletes are protected by their league and the business around the game that they play. Should athletes be punished any less than the average person due to their profession?
When taking a look into professional sports, athletes are idolized. Although some athletes have been convicted of their crimes, the trend of the punishment has been a slap on the wrist for many crimes committed.
In February of 2014, Baltimore Ravens running back Ray Rice was arrested and charged for assaulting his then fiancée, Janay Palmer. In March 2014, Rice was indicted by a grand jury on third-degree aggravated assault, with a possible jail sentence of three to five years and a fine of up to $15,000. Rice was suspended for only two games, whereas an average person may be terminated from their job for the jail time alone.
It can be understood that we are all human and make mistakes, but if one abuses someone, physically or mentally, justice should be handled the same way as with anyone else.
In June of 2014, Women's American Soccer goalkeeper Hope Solo was arrested and charged with two misdemeanor counts of assault in the fourth degree against her nephew and half-sister. Solo recently played in the 2015 Women's FIFA World Cup, only sitting out one game; the National Women's Soccer Team also allowed her to continue playing soccer through the 2014 season. In January of 2015, the judge dismissed the charges against Solo due to the lack of cooperation from both alleged victims.
The frustration of domestic violence in professional sports has become preposterous. These insensible acts are causing spectators to question what these organizations are doing to offer mental health and anger management courses to help athletes with anger or underlying issues.
Professional athletes are paid millions of dollars, are role models to children and are constantly in the public eye. However, stress and anger that athletes may feel during games should be dealt with in an appropriate manner.
No matter which sport an athlete plays, at what level and in which league, consequences should be handled in a stricter manner. There are many ways professional sports leagues can better handle these acts, rather than protect their athletes. When a crime is committed, especially involving the inhumane act of assault and abuse of a significant other, it is unfair that a professional athlete is let off the hook.
Sport organizations need to implement stricter punishments on these violent cases. Professional athletes are just like anyone else in society, therefore the special treatment should discontinue. Getting support and paying the consequences are the only way players can find a balance with their careers and personal lives.