Acid Bath's 1993 debut inspires
"When the Kite String Pops" 20th anniversary is a Deep South assault on the senses 
BY JAMES SEARS 
STAFF WRITER



There are two kinds of heavy metal albums; there is heavy and there is overwhelmingly heavy. Louisiana sludge metal band, Acid Bath's, "When the Kite String Pops," 1996 debut album released under independent label Rotten Records fits the latter description quite well with its own brand of southern rock infused hardcore metal.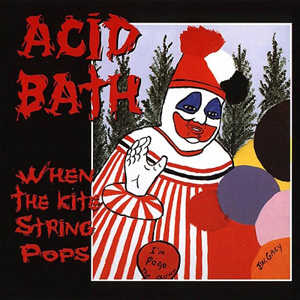 The record is like an ethereal funeral dirge, which is probably the best way to describe the grinding, crunching atmosphere that makes this Acid Bath stand out amongst the prevailing trends of their time. In their short time-span, Acid Bath influenced several bands out of the southern region such as Crowbar, Down, and Corrosion of Conformity.
Unfortunately, this was an artistic statement that remained unheard in most mainstream circles and was inevitably ignored. Perhaps what gives it its underground appeal is Acid Bath's poetic perspective into the deeper inner workings of the human psyche—a subject too sensitive for even the most daring writers to pull off.
The record starts with an impenetrable blast derived from its rhythm section, composed of guitarists Sammy Duet and Mike Sanchez, late bassist Audie Pitre, and drummer Jimmy Kyle. The sound is further underpinned by the brooding vocals of lead singer Dax Riggs, whose fluctuation between fractured screams and bluesy howls is sure to send a shiver into the bones of any metal-head.
Despite the band's similarities to bands of their ilk, such as the Melvins and fellow southern contemporaries, such as Eyehategod, Acid Bath differentiates themselves from the rest with their morbid subject matter. Tackling subjects such as drug abuse in "Dope Fiend" and "Tranquilized," murder/fetishism in "Cheap Vodka" and "Jezebel" and death itself in "The Mortician's Flame" and "What Color is Death," to describe the album as "dark" is an understatement. Perhaps the two definitive tracks of this unknown masterpiece are "Screams of the Butterfly" and "Toubabo Koomi." "Screams of the Butterfly" is an unusual folk song, which complements the sinister tone of the record while "Toubabo Koomi" blends equal parts of avant-garde death metal and Slayer.
Part metal, part southern-fried macabre, "When the Kite String Pops" may prove a bit disconcerting, especially for those unfamiliar or lacking an interest in heavy music, but for those looking for something a little beyond the realms of Metallica, it is time to give Acid Bath's "When the Kite String Pops" a spin.