SC Forward takes flight
Program offers faster option to obtaining a degree 
BY JIMMY DYER 
NEWS EDITOR 
Starting this fall, Schoolcraft is bringing forth a new program that allows students to complete semester long courses in as little as five weeks.
The college will offer four courses that are eligible for the SC Forward program including: English 101 and POLS 101 in the first 5-week sessions, English 102 during the second 5-week section and History 151 in the third 5-week session.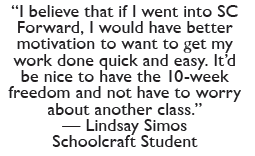 "The SC Forward Program was created for those students who wish to pursue a College degree but have limited time for education," said Cheryl Hawkins, Dean of Liberal Arts and Sciences at Schoolcraft.
Each class taken will be worth three credits, so the idea of the program is to earn nine credit hours in the time a normal student would have accumulated only three. The program was meant for people who have had to put a degree on hold or for those who would like to obtain their degree, but do not have the luxury of time to do so. Online classes will also be available in addition to traditional on campus classes.
"Now, these students can take classes, one class at a time, but potentially finishing three classes per semester. The goal is to help these students get their degrees completed in a shorter period of time," said Hawkins.
For highly motivated students, it is a great alternative to complete classes faster and get closer to career goals, weather transferring or proceeding at Schoolcraft.
"I believe that if I went into SC Forward, I would have better motivation to want to get my work done quick and easy. It'd be nice to have the 10-week freedom and not have to worry about another class," said Schoolcraft student Lindsay Simos.
To get started in the program, students can submit an application online or to the Admissions and Welcome Center on campus. From there, a meeting with an academic advisor would be scheduled, and registration can be done through WebAdvisor.
Anyone is welcome to join SC Forward after meeting with an advisor or counselor. This new program is just starting off, and Schoolcraft expects to bring continued success to the college.
Schoolcraft has high hopes for the future of the SC Forward program and aim to see great success from it.
For more information, contact the Answering Center at (734)- 462-4426 or email [email protected] schoolcraft.edu.