Preventing Problems
College launches Early Alert System to improve student success
BY CAMYLE CRYDERMAN 
MANAGING EDITOR
Schoolcraft College faculty and staff's hope is for every enrolled student to succeed in their studies. There are many existing programs in place for help if students are struggling in the classroom; however, a new type of program has recently been implemented to make this goal even more attainable for everyone: Schoolcraft's Early Alert System.
Launched in the Fall of 2015, this system is an early intervention in a student's academics to increase success. If a professor or fellow staff member notices a student having difficulty with homework, tests or even class attendance, they may make note of it electronically to notify the Office of Student Success and Retention.
"The early alert system is a communication tool that faculty have access to, to ask for additional outreach for a student if they notice they might be struggling," said Melissa Schultz, Director of Student Success and Retention at Schoolcraft.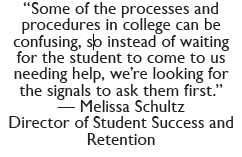 Once the office is alerted of a student, they research each case individually to decide who would be the best person to follow up with them. Each student then receives an individual phone call to discuss the issues and find the best solutions.
"Some of the processes and procedures in college can be confusing, so instead of waiting for the student to come to us needing help, we're looking for the signals to ask them first," said Schultz.
Schoolcraft College is dedicated to student achievement, so what makes this program special is that every student gets the individual attention they may need to improve. Many students receive follow up phone calls and emails after the initial outreach from staff to see how they are improving. This continued connection makes students feel more comfortable at Schoolcraft and is proven to increase success. This system is also important, because often students don't even know they need the help when they do. With the aid of the Early Alert System, not only can students get back on track, but they can thrive.
"Research tells us that sometimes students don't really know how they're doing in a class—they may need more feedback or other kinds of assistance. Not only does Early Alert provide what students need, it also lets students know that we truly care about their success—because we do," said Cheryl Hagen, Vice President and Chief Student Affairs Officer.
The staff of Schoolcraft know that every student is enrolled at the college to attain a certain goal, so they make it a responsibility to help everyone get there. The Early Alert System is another stepping stone in this process. In place for all students, whether on campus, online or in continuing education, the staff is able to intervene for anyone before a situation gets too far.
"We wanted a system that could let us know if students were in trouble early enough to make a difference," said Dean of Education Programs Dr. Deborah Daiek. "The Early Alert System was the result."
The main purpose of this system is to help students in any way possible—not benefit the college. That means that if it is in the best interest of a student to simply withdraw from or drop a class, that is what will be suggested to them. Other suggestions the system may offer to improve academics include utilizing tutoring at the LAC, speaking with the professor or another form of personalized help.
"I think this program is a really good idea," said Schoolcraft student Sam Holmes. "Sometimes students are scared to go up to the teacher and ask for help, so if the teachers reach out to them, it's easier."
The Early Alert System was crafted out of genuine care and concern for students and although new, Schoolcraft staff has high hopes for this program. It is expected to not only aid individual students, but improve the success of the college as a whole. Through early intervention,