Life, love and death
Theatre department set to perform classic play "Our Town"
BY DONOVAN SHEEHAN 
CAMPUS LIFE EDITOR
This Fall, the Schoolcraft College Theatre Department presents "Our Town," the classic story of life, love and death in rural New Hampshire. Beginning Friday, Oct. 23 and running until Nov. 14, the theatre company is hard at work preparing for opening night.


"It goes back to basics—what's important in life," said Professor James Hartman, Chair of the Department of Theatre and Drama, who is directing the play. "Relationships are important, and I think it deals with that."
Written in 1937 by Thornton Wilder, the play tells the story of a small, rural town and its inhabitants as they make their way through life's stages: youth, adulthood, marriage and finally, death. The play is famous for its minimalistic set and metatheatrical style: Wilder wrote "Our Town" as a play within a play, so that the only props and scenery are items that would normally be found in a theatre, such as stage boxes and ladders.
Hartman is keeping with tradition for the most part, although he is setting the play in two acts instead of the original three, in order to cut down on interruptions.
The cast is made up of both current Schoolcraft students and members from the community. Hartman first introduced non-student actors into Schoolcraft's theatre program when he took over the program 33 years ago, in order to counteract the turnover of student actors leaving after they complete their time at Schoolcraft.
"When I came to the college," said Hartman, "I asked the college for three things: one, I didn't want to be censored, I would censor myself; two, I wanted to do plays in a theatre, not a cafeteria; and three, open auditions."
Due to these changes, the theatre program has seen a major transformation since Hartman's arrival, resulting in the current theatre company that is producing "Our Town."
The play will be performed in the Liberal Arts Theatre, which was built with Hartman's supervision. Before Hartman's arrival, no physical theatre existed; all plays were strictly dinner theatre, performed in the cafeteria. Performing in a fully equipped modern theatre, with lighting and sound systems, allows the audience to have a more immersive experience.
As a director, Hartman is known for his emphasis on discipline.
"The way he runs the show is like as if you were in a professional theatre, and I think that helps a lot of us become better," said Jack Cowper, an actor who plays the character of the Stage Manager.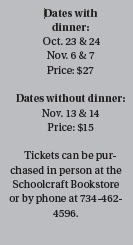 Sean Thomas, who plays the character of Mr. Webb, commented about Hartman's passion for theatre.
"He's really passionate about what he does, and he reflects that in how he directs," he said.
Both director, cast and crew are looking forward to the show.
"Everyone should be able to find one scene in this play that hits home for them," said Cowper.
Hartman hopes that plays like this one will open up students to something new.
"That's what collegiate theatre should be: to introduce people all over the campus, no matter what your major is, to excite you enough to see to see one theatre production while you're on that campus, because maybe that will inspire you to see another one, on that campus or somewhere else in the world," said Hartman. "It can do nothing but enhance your life."
Dinner theatre performances of "Our Town" are on Oct. 23 and 24 and Nov. 6 and 7, with tickets at $27, including the price of dinner. Strictly theatre performances are on Nov. 13 and 14, with tickets at $15.