Defying the odds
Schoolcraft alumna overcomes illness to publish own book
BY CAMYLE CRYDERMAN
MANAGING EDITOR


Tiffany Young appears to be a typical 31-year-old-woman; she is a Kroger employee, a Schoolcraft graduate and an avid writer. What makes her unique though is not only that she used her passion for writing to publish her own book, but that she came back from the brink of death to do so.
At the age of 17, Young contracted Meningitis and Encephalitis. Medical professionals told her family that she would never recover. She lost her memory and suffered many lasting physical and mental conditions that still affect her today. Although she managed to graduate high school, Young had to fight for her life. As she continued to improve, she used the doctor's doubt to push herself even harder and become the woman she is today.
"I had doctors tell my parents that I wouldn't be normal, I wouldn't go to school, read or do things like I used too. They counted me out and wanted to send me to a mental institution," said Young of her situation. "I was inspired to write this book because of what happened to me when I was ill."
Young's book "Aden the Beginning" follows two story lines: one about a young prince who is struggling to cope with life after the death of his father and the other about an ambitious yet naive girl who always seems to attract trouble. This book has been nearly 10 years in the making and was not always smooth sailing. Through her continued mental and physical struggles due to her past illness and general dissatisfaction with the book at times, there were many times that Young simply felt like giving up. She pushed on though, and following the release of her first book, Young continued to work on two related books to finish out the trilogy, the next of which comes out in March of 2016. Young will be present for a book signing of "Aden the Beginning" in Henry's of the VisTaTech Center on Nov. 12 from 11 a.m. to 2:30 p.m.
As if recovering from a life altering illness, writing and publishing a book was not enough already, Young accomplished one of her other lifelong goals as well—graduating from college. In 2012—10 years after graduating from high school and one of the lowest points in her life, Young earned what many people deemed impossible for her, a degree from Schoolcraft College. She had to work even harder than the typical student and concentrate on things like focusing in class and comprehension. Even though many days were a struggle, thanks to the motivation of her family and the Schoolcraft staff, Young graduated with an Associates of Arts degree.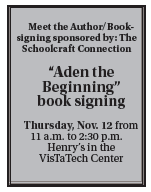 "Graduating from college was a must for me; I was determined to do it. I don't remember my high school graduation, so this was an experience I had to have," said Young. "The feeling of walking across the stage was like a wedding day to me— that's how important it was."
Young's family is what has kept her progressing throughout her illness and continues today. They never let her use her sickness as an excuse for anything causing difficulty or let Young feel sorry for herself. They continue to support her and help her throughout every stage of her writing. They are the biggest motivators in every aspect of Young's life.
"We try to empower her with reminders of how far she's come," said Debra Young, Tiffany's mother. "Sometimes everyday things are a challenge for her because of what she goes through, but because we show her our love, it helps her to be strong and work through short and long term goals."
Now, 14 years after her diagnosis, Young is still feeling the effects of her illness. She continues to suffer from mood disorders and anxiety attacks, as well as the physical side effects of the countless medications she will have to take for the duration of her life. She doesn't let any of this get her down though as she has high hopes for her future. Aside from writing more books, Young hopes to turn her works into movies one day. She also has a goal to return to school and become a child psychologist and open her own publishing company.
Tiffany Young has overcome such adversity in her life, yet continues to put off a positive aura, motivating everyone who interacts with her. She is the embodiment of inspiring, and Schoolcraft College is proud to call her one of their own.
Young's book "Aden the Beginning" is available for purchase online at amazon.com, in Barnes and Noble and Kroger stores nationwide. For inside information and a personal book signing by Young, visit her at her book signing on Nov. 12 from 11 a.m. to 2:30 p.m. in Henry's of the VisTaTech Center.