Opportunity at its finest
$40,000 Jack Kent Cooke Undergraduate Transfer Scholarship up for grabs
 BY ELAINE GEROU 
EDITOR-IN-CHIEF
Education is a great privilege denied to many across the globe. In the United States, minors are fortunate to have access to free public schooling from kindergarten to the high school, but affording college is difficult for many. That's why the Jack Kent Cooke Foundation offers an Undergraduate Transfer Scholarship, offering up to $40,000 per year at the institution of choice for winners.
"It's life changing to the recipients," said Schoolcraft student Casey Samyn. "Getting the scholarship means getting a chance you wouldn't have had otherwise. It gives students the tools to succeed when personal circumstances may have prevented them from succeeding."
The Jack Kent Cooke Foundation Undergraduate Transfer Scholarship makes it possible for the nation's top community college students to complete their bachelor's degrees by transferring to a selective four-year college or university. The foundation will reward at least 75 students from all the community college students across the country (over 2,500 schools) transferring in Fall 2016 to a four-year college. In addition to awarding the students up to $40,000 each year of undergraduate school, if those students stay in good standing, they are also eligible to receive $50,000 per a year at graduate school.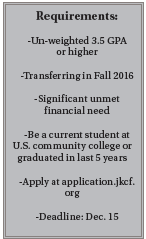 Each award is intended to cover a significant share of the student's educational expenses — including tuition, living expenses, books and required fees — for the final two to three years necessary to achieve a bachelor's degree.
Application process
Although the application process is long and tedious, it is well worth the work for the chance at earning a practically free remainder of one's undergraduate education.
The minimum qualifications for the scholarship are a 3.5 un-weighted GPA and currently being a student at an accredited United States community college or two-year institution with sophomore status or have graduated within the last five years. Applicants must also have the intent to transfer to a four-year college or university in 2016's Fall semester and demonstrate significant unmet financial need.
Applicants must provide tax documents from both themselves and their parents in order to show the financial need.
On top of that, there are many questions to answer, certain documents must be uploaded and two recommenders must do their parts as well.
"The faculty recommender must be able to tell the story on a whole level of the student, not just academically. They need to write quite a bit," Laurie Kattuah-Snyder, Associate Dean of Advising and Partnerships and Transfer Coordinator, said. "It's an extensive process for them too."
Before applying, interested applicants should contact Snyder to discuss the process and whether they are good candidates for the scholarship or not.
"The best first-step for a perspective applicant is to go to featured scholars to see who won and why," Snyder said.
There are a couple webinars from Oct. 20 and Nov. 3 at jkcf. org/scholarship-programs/ undergraduate-transfer/ for applicants to watch, as well as a YouTube video at youtube.com/ watch?v=qZ1_uFEJvzM&feature=youtu.be.
Interested students who are considering applying must contact Snyder immediately at [email protected] and meet with her before Nov. 19.
The application is due Dec. 15.
Past winners
The odds seem slim, but Schoolcraft has had five winners since 2011. In 2014, there were actually two recipients from Schoolcraft.
"It's a really great scholarship. The [scholarship] committee knows that so many students from Schoolcraft are worthy of this. There's a lot of opportunities that help the applicants succeed and get the scholarship here at Schoolcraft," said Noor Alsaleh, Secretary of Phi Theta Kappa.
The Schoolcraft winners include: Efua Crenstil (2015) who is now attending the University of Pennsylvania to become a nurse to return to Ghana to help her village, Maria Cielito (2014) from the Philippines who is in medical school being paid by the foundation, Jonathan Kris (2014) who is studying philosophy at the University of Michigan, Usha Kadiyala (2013) from India who graduated from the University of Michigan Dearborn and is taking a year to prepare for the MCAT and Matthew Cornett (2011) who is in graduate school, also being paid for by the Jack Kent Cooke Foundation.
"Our winners all have one thing in common other than the grades, they rose above challenges. Whether is was medical or financial, they all proved that they're academically excellent in spite of 'fill in the blank,'" Snyder said. "They're all wonderful people. It's amazing how they've inspired me. What is it about these winners that can overcome horrible situations? Where do they get their drive?"
Students interested in applying for the scholarship should start the process as soon as possible, as they have their work cut out for them and just under a month to complete it. Hopefully 2016 will bring Schoolcraft another recipient of the Jack Kent Cooke Undergraduate Transfer Scholarship. It is the opportunity of a lifetime for many, so give it a shot.
For students seeking financial help through scholarships but not qualifying for the Jack Kent Cooke Undergraduate Transfer Scholarship, Snyder encourages them to seek other scholarship opportunities and recommends visiting scholaraid.