Create happiness

Joy cannot be found by searching
It is perfectly normal to believe, "If I just had 'this,' I would be happy," but this is a terrible misconception, as happiness is felt inside; therefore, happiness must come from within—not from outside sources. Sure, accessories such as having nice clothes, a good paying job and a fulfilling relationship can enhance an individual's happiness, but none of these sources are needed to be truly happy.
Happiness comes from doing what you love whether it be painting, long boarding, playing sports or chatting with friends. Personally, happiness for me comes from helping others and trying new activities, food and places. The world is so large that it doesn't always make sense to continue to do the same thing day in and day out. Plus, if you have not yet found what it is that inspires you and brings you happiness, doing something new everyday is always a step in the right direction to finding what you do love. Every time you find something that doesn't make you happy, that is one step closer to finding what does. Success is found through these tribulations.
Happiness can come from the simplest of Earth's happenings. It could be waves crashing to shore to kiss your toes, listening to your favorite song, feeling the sun heat your body or staring at flowers to show you the beauty Mother Nature holds. Happiness can be found in the most unusual places and circumstances if you allow it to.
Many times, humans get into the mindset that they need more or that if one aspect of their life goes terribly wrong, it must mean the rest of their life is going in the same direction . In some ways, we have tunnel vision, only focusing on what we choose to, but we were born with two incredible eyes that let us to have peripheral vision as well, allowing us to see much more than what is just in front of us. We need to take advantage of what we have and not limit ourselves.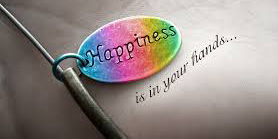 Another misconception is that if someone is happy, they should be smiling and excited. As a mellow person who rarely gets overtly ecstatic, I know this is not true. I am usually happy, but rarely express it physically. That doesn't mean I am not enjoying myself though. Being content with the way one's life is going can be the definition of happy.
Setting goals and accomplishing them can also enhance happiness. A life without goals is almost a life not worth living. Having goals and achieving them gives one a sense of direction, satisfaction and pride, which can lead to happiness. If a person merely lives life day to day, not knowing what to do, they will most likely feel that they have no purpose on Earth, leading to feelings of depression.
It is extremely easy to allow yourself to depend on others for happiness, but this should never be the case. People come and go, and no one knows yourself better than you do, and how to make yourself feel good. If you still don't know exactly who you are, maybe now is a good time to get out of your comfort zone to find what defines you. Life is too short to be a lost soul forever.