Actions speak louder than words
Netflix's original documentary "Making a Murderer" causes controversy
By Chris Skarnulis, Art & Entertainment Editor
Did Steven Avery do it? That's the question that "Making a Murderer" directors Laura Ricciardi and Moira Demos leave for the viewer to decide. This Netflix show documents the real life of wrongly accused Wisconsin man Steven Avery who lost 18 years of his life in prison for the sexual assault of a woman he didn't commit.
What leaves the viewers shocked though, is that Avery is accused of the murder of a young Wisconsin photographer just two years following his exoneration. The highly controversial documentary that took ten years to make finally premiered on Netflix on Dec. 18, 2015. Nearly two months later this show continues to stir up a frenzy regarding the innocence of convicted murderer Avery since its start.
Steven Avery was born in Manitowoc County in 1962 to Allan and Dolores Avery. The Avery family owned 40 acres of land that they used to operate a salvage yard, called Avery's Auto Salvage. At a young age, Avery had several run-ins with the law. In one instance in 1985, Avery's cousin filed charges against him after he ran her off the road and held her at gunpoint demanding to know why nasty rumors were being spread about him around town. Soon after she filed charges, he was apprehended and sentenced to six years in prison. Later that year, Avery was convicted of first-degree sexual assault, attempted first-degree murder, and false imprisonment of Penny Beerntsen, a young housewife from a middle class family. He was sentenced to 32 years in prison, but maintained his innocence, claiming he was wrongly accused.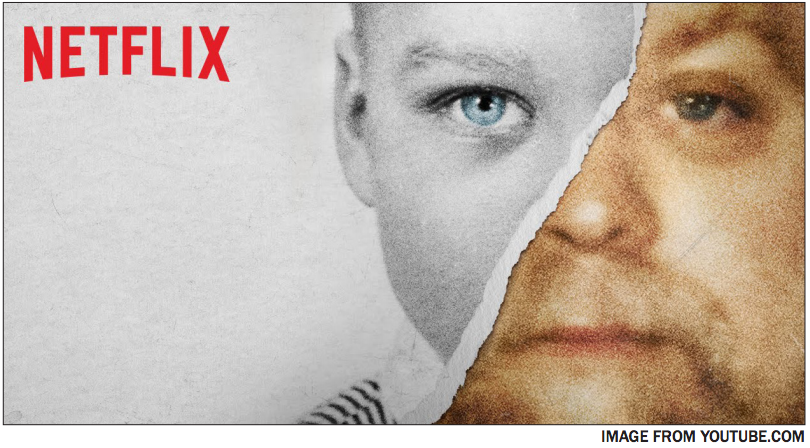 It took 18 years for him to be exonerated of these charges, and he was then released. Avery spent the next two years readjusting to life and acting as normal as he possibly could. That all changed when Teresa Halbach, a young ambitious automobile photographer, scheduled an appointment with Avery to photograph his sister's minivan for an ad in Auto Trader Magazine. That day she went missing. A massive manhunt went in search of her for two weeks. A search party finally came across her car in Avery's Auto Salvage, with Steven Avery's blood on the inside. Soon after, her scorched bones and car key were found on Avery's property. Avery was then apprehended, in addition to his nephew, 16-year-old Brendan Dassey. Dassey claimed he was an accomplice in the rape and murder of Halbach. Both were arrested for the murder of Halbach.
The series throws the audience a curveball when Dassey later confesses that he made up the story of his involvement. He claims he did this to stop officials from pestering him regarding his alleged involvement.
The series does a terrific job documenting the eyebrow-raising trials of Steven Avery and his nephew as well as the alleged conspiracies surrounding the Manitowoc County Police Department's framing of Avery. The real life footage shows how such a simple Wisconsin family's bond can be torn apart and in turn alienated from the entire community.
The series examines this in a thorough manner, using actual footage from the trials, interviews with several notable defense attorneys that have defended Avery in the past and the perspectives of his family and surrounding community The combination of both the defense and the prosecution teams give two different sides to how the events transpired and require the viewers to use strong critical thinking to form their own opinion regarding Avery's innocence.
The series alternates between beautiful candid shots of the Wisconsin country to distressed shots of a messy salvage yard. This, combined with eerie background music gives the documentary a dark and menacing tone.
Making a Murderer is an overall masterpiece. It examines what could be considered the most controversial murder trial ever in America. The filmmakers' use of several outside sources input made the series even more satisfying to watch. It's safe to say that Avery isn't done fighting for his freedom; only time will tell.
On March 19, Avery's defense attorneys Dean Strang and Jerry Buting, will be available for a discussion with the public at the Royal Oak Music Theater at 8 p.m. For those interested in inside information and firsthand accounts of the events of "Making a Murderer," this unique opportunity will provide the needed thrill.