Around the world in five hours
15th annual Multicultural Fair celebrates diversity and culture
By Camyle Cryderman, Editor-in-chief
The ability to travel around the world and explore different cultures is an opportunity that many people crave, but unfortunately are not able to make reality. With the expense, time commitment and at home responsibilities, it is often hard to travel. Thanks to Schoolcraft's Multicultural Fair, people have the opportunity to travel the world within the comfort of campus.
On Thursday, March 24 from 10 a.m. to 3 p.m. the 15th annual Schoolcraft Multicultural Fair will return to the DiPonio room of the VisTaTech Center. This event is free for any students, faculty, staff and community member to attend.
Representing the world
The Multicultural fair is a one-day event that represents two dozen countries from around the world. Informative tables and displays are set up by Schoolcraft students either about their native country, or a country they have visited. Representatives will be adorned in clothing from their native land and will showcase photographs, parcels and food native to the country they are representing to share with attendees. Most continents will be represented through countries like Venezuela, Morocco, Greece, China and The Philippines with language and firsthand knowledge to share.
"The Multicultural fair is an opportunity for students to highlight their cultures," said Laura LaVoie Leshok, Schoolcraft International Coordinator. "It gives a glimpse of other countries and how we can learn a bit about each of them."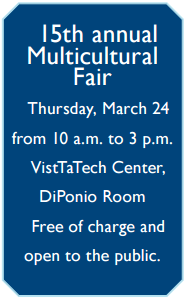 Interactive entertainment
Upon entering, attendees will receive a simulated passport to take around to all of the countries with them. At each country they visit, they will receive a stamp to commemorate the tour. Attendees are encouraged to ask questions and interact with the students at the different country tables as well as check out the native currency, artifacts and photos. Although it may not be the same as a real passport, this commemorative piece is a good reminder of all of the cultures that one has learned about.
Aside from the displays, cultural entertainment will be taking place throughout the day every hour. Spanish dancing, the Marcus Garvey Academy African Drum and Dance Ensemble and Brazilian Capoeira, which combines martial arts with dance, along with others will all be taking place to engage attendees.
"People are often unaware of all the cultural diversity on our own campus and in our community," said Josselyn Moore, Schoolcraft Anthropology and Sociology Professor and CoChair of the International Institute. "This gives us a chance to celebrate and learn more about this rich array of cultures in our midst."
Cultural cuisine and customs
Local businesses such as Noodles and Company will also be present at the fair with free samplings of foreign and American foods. Student displays will also feature cross-cultural snacks and cuisine to make the country come to life. Whether it be to watch a dance or get free lunch, everyone is encouraged to attend and immerse himself or herself in a new culture. Cultural activities such as Indian henna and eye brow threading will be present as well as free massages and the opportunity to try on and purchase the native clothing and jewelry of different countries.
Popular attractions include a teaching through film exhibit that will highlight different cultures through popular films, world trivia with the opportunity to win prizes and the marriage around the world exhibit that will highlight different marriage tradit ions and customs as well as native wedding attire.
Informative exhibits
Some of this year's most informative exhibits will include "Little Syria, N.Y. An Immigrant Community's Life & Legacy" hosted by the Arab American National Museum. As well as the Human Race Machine, which is a free booth that allows users to see themselves as if they were a different ethnicity. The Human Race Machine is an exciting opportunity that will help unite everyone by viewing themselves as a different race. It will also be available leading up to the fair at the Schoolcraft Bookstore on March 17, 18, 21, 22 and 23 beginning at 8:30 a.m. everyday.
"We don't always have the luxury to travel, not everyone gets to study abroad or take fancy trips, so this is a great opportunity for them to take a trip around the world," said Leshok.
The Multicultural Fair is one of the most anticipated events of the year. With increasing participation to nearly 3,500 people and new attractions, the school is making use of the generous grant from the Schoolcraft College Foundation to explore the cultures of the students. The Multicultural fair extends learning outside of the classroom walls. By engrossing and interacting in multiple foreign cultures, attendees will go home not only more knowledgeable, but more accepting.