Crossing the finish line
Steps to completing the graduation process
By Elizabeth Casella, Managing Editor
The Winter 2016 semester is nearly half way through. All of the late nights and semesters of heavy homework loads are beginning to add up to the final goal of graduation. The date to earning a degree is closing in faster than most may think. Now is the time to finish out the semester strong so that the coveted college degree may finally be earned.
Preparations must be made before this action can actually occur. To receive graduation status, walk in the commencement ceremony, and be issued an official degree several steps must be taken.


Applying for Graduation
The process begins with a student determining the semester in which they plan to finish their coursework. By logging onto WebAdvisor students are able to track their progress towards their degree or certificate program. Next, students must schedule a graduation appointment with their counselor or senior academic advisor in the McDowell Center to complete the graduation application.
Some students may finish the credential requirement before applying, which is acceptable as well, however these students should still apply if they want to be included in the graduation ceremony and receive their degree. Once final grades are posted for the semester, the records office will audit all graduation applications to verify that all requirements have been met.
Commencement Ceremony Eligibility
The commencement ceremony is officially held annually at the conclusion of each winter semester. In the case of the 2016 ceremony, those who earned credentials at the conclusions of fall 2015, along with those applying to graduate during the winter 2016, spring 2016, and summer 2016 are eligible to participate.
"I think walking is important. The ceremonial walk symbolizes the closure of their time here at Schoolcraft and symbolizes the beginning of the next step in their academic journey. It is a celebration of 'you did it' ," said Dr. Michael Oliver, Associate Dean of Counseling and Career Services.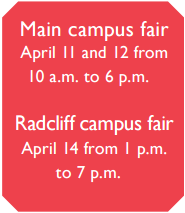 Costs and Pick-up Date
Walking in the ceremony entails a small price of $20 to purchase a cap and gown that students then own outright. Students can purchase their cap and gown from the bookstore along with other graduation related memorabilia if they choose. Cap and gowns are available starting at the grad fair on April 11 until the day before the ceremony on May 7. Students may purchase invitations, diploma frames and diploma covers if they so wish.
"Don't miss out even if you are graduating in the spring or summer. You have accomplished a great deal. Share this event with your family and friends," said Sheba Oliver, Graduation Records Coordinator.
Grad Fair
The final step before walking across the stage and celebrating the accomplishments of the past semesters is to attend Grad Fair before the commencement ceremony. The main campus fair is on April 11 and 12 from 10 a.m. to 6 p.m. and the Radcliff campus fair is April 14 from 1 p.m. to 7 p.m. The Graduation Fair gives students an opportunity to pick up all of the essentials that they have purchased or to purchase additional items as well. It also offers students a chance to ask any last minute questions they may have.
"I am excited to graduate at the end of the semester. I process was made simple with the help I received from counseling," said sophomore Julianne Sersen.
Commencement Ceremony
The commencement ceremony will take place on May 7 at 4 p.m. at USA Hockey Arena formerly known as Compuware Arena in Plymouth. This is an amazing accomplishment and great opportunity for students to be recognized for all of their hard work. It also is a great event to celebrate with friends and family.
and family. It is coming close to being the end and the time to receive a diploma. Consult with a counselor today to discuss graduation and start a conversation about the next career or life steps that follow to a bright future. For more information or to make an appointment contact the Counseling and Advising office at 734.462.4429 or by email at [email protected]