Giving back to the community
College staff member donates time to help less fortunate Detroit residents
By Camyle Cryderman, Editor-in-chief


After a long week at work, most people take advantage of the weekend as a time to relax and focus on themselves. Being able to sleep in and enjoy the warmth of home is often interrupted by the schedule of work or school, so when the chance to unwind on the weekend arises, most people jump at the opportunity. Jennifer Cook, PE equipment room attendant facilities manager at Schoolcraft starts her Saturday mornings vastly different from most people.
Before the dawn breaks, Cook gets in her car to make it to Detroit by 7:30 a.m. She drives past the liveliness of the Motor City Casino, the bright lights of the Cobo Center, and the construction of the new Detroit Events Center to her final destination of a dirty alley way behind St. Aloysius Catholic Parish. It is here that the ministry Cook works with borrows their space to gather up food and donations to deliver to the less fortunate in the area.
Her interest in helping began nearly eight years ago when she attended a St. Leos soup kitchen by volunteering through Schoolcraft. She knew at that moment she wanted to expose her three children to the world of giving back, and she has been heavily involved ever since.
"The joy that I get from the gratitude that the people I help show me keeps me coming back each week," said Cook. "It makes me feel that I didn't waste the day and I fulfilled my purpose of helping others."
Cook's Saturday mornings start by fixing huge vats of coffee and hot chocolate, often sneaking a cup for herself to prepare for the day's events. Then, hundreds of premade sandwiches, donated hats, gloves, clothes and blankets as well as the drinks are loaded into a big white conversion van. This has been her morning schedule almost every Saturday for nearly four years, the past two of which she has been joined by her 14-year-old daughter Angelica.


"My mom has an inner peace about her that has enabled us to do this," said Angelica. "She is so devout because she truly feels it in her soul."
The pair take the van to their first stop at Washington and State St. where they happily give whatever is needed including socks, women's hygiene kits and food to passersby and regulars they encounter every week. They end this stop by joining hands with anyone who is around and engaging in an early morning prayer, then close up the van and move onward.
Although Cook has a general route that she tends to follow, she travels down side streets and through slums looking for individuals who may need assistance. She does not question anyone who comes up to her van needing food or clothes, and she even takes it upon herself to leave a hot drink, sandwich, and blanket next to people sleeping on the street.
"I don't know what I would do or where I would be without Jennifer giving out food and drinks," said Leona Palazzolo, one of the regulars who utilizes Cook's help. "She is a miracle."
Cook frequents many churches who offer help for the homeless with her donations. She organizes care packages for them and always takes time out of her route to enjoy lunch with them at the soup kitchen. She knows many by name and gives them the support they deserve regardless if they are addicts, mentally ill or unkempt.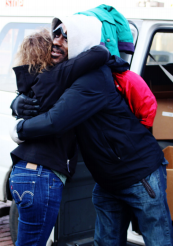 "That's what's special about my mom," Angelica said of Cook. "We can give them all sorts of donations, but she always sits down with them, looks them in the eye and asks them how their day was. She gives them the validation they want."
After several stops and almost six hours delivering goods around Detroit, Cook takes what she has left back to St. Aloysius. She unpacks and goes on to clean the space she used for preparation showing just how humble and caring of a person she is.
"I love how well accepted I am. It's like all the people really want to see me, it just makes me feel good," said Cook.
After a long and tiring day Cook does not feel bitter or that she has wasted her time. She simply thinks ahead to the next week wondering what else she can do to help those in need.
It takes a special person to look to those in their lowest moment and wonder how they can be helped. Jennifer Cook is one of those people. Not only are the people of Detroit lucky to have her as a volunteer, but Schoolcraft College is lucky to have her as an integral part of its staff.

Photos by Annie Wellman, Photo Editor