Alcohol awareness
College serving up more than just mocktails
By Maddie Darling, Writing Intern — Photos courtesy of Schoolcraft Archives


Is it time for a reality check? Perhaps a lesson in alcohol responsibility— or maybe just a free Root Beer Float. The Student Activities Board (SAB) will be serving up Mocktails on March 10 from 11 a.m. to 2 p.m. as well as the Reality Check Game Show taking place from 12 p.m. to 1 p.m. that same day. The event will be held in the Lower Waterman of the VisaTech Center building.
Courtesy of Mothers Against Drunk Driving (MADD), Michigan State Police, Save Our Youth Coalition, and more, information and packets about alcohol and drug safety will be provided during the Mocktail party. Schoolcraft College along with the Counseling department, Student Relations, and the Student Activities Board will be sponsoring the event, supporting the vital importance of student safety in the subject of alcohol and drug prevention. The SAB will be serving free Root Beer Floats and "Mocktails" during the program.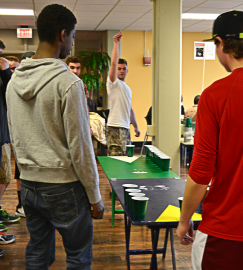 If the Mocktails and Root Beer Floats are not tempting enough, then maybe leaving the event with extra cash is more enticing. Hosted by Orlo Azul, the Reality Check Game Show will be taking off at 12 p.m. during the program. This portion of the event challenges students to answer trivia questions about drug and alcohol prevention. In addition to testing the skills of the game show participants, there is also a chance of winning cash prizes.
Upon arrival to the event, punch cards will be handed out to everyone in attendance. "We want to encourage the students to go around to the different [sponsor] tables," said Todd Stowell, Director of Student Activities. "Each time they go to a different table they will get a punch in their card."
The idea is simple: a visit to a table equals one alcoholic drink. By the end of the event, the blood alcohol levels are estimated by the height and weight of the student as well as taking into account how many punches they got. This way students can learn about alcohol consumption in an interactive way.
"The message we are trying to convey is the dangers of alcoholism and binge drinking," said Sam Berger, President of SAB. "[Also] promoting ways to have fun without drinking."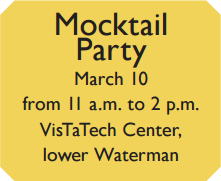 With free mocktails and cash prizes, the Mocktail party and the Reality Check game show are sure to be a hit. For more information on this event, call the Student Activities Office at 734-462-4422.