Rolling past the competition
Schoolcraft student laces up as a Derby Girl in spare time
BY CAMYLE CRYDERMAN
EDITOR-IN-CHIEF
Outside of Schoolcraft's walls, many students rarely see or hear from each other. Lives outside of class or work are often unbeknownst to schoolmates and associates, but many students have unique involvement outside of school that are worthy of getting to know. Shelby Leksche, Schoolcraft student and Student Activities Office Student Employee leads an interesting after school life.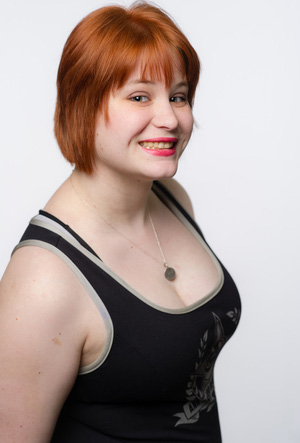 For over two years, Leksche has participated in the intense and lesser known sport of roller derby. Roller derby is an all-female contact sport in which two teams of five, roller skate around a track to try to earn points. Instead of having a ball that they use to score on the other team with, teams consist of a "jammer" who is one of the players that acts as the ball. The jammer attempts to get through and lap the opposing team as many times as possible in order to earn points. The rest of the team are blockers and act as both offense and defense to help aid their jammer in lapping the other team as well as trying to stop the opposing jammer from making it through. Roller derby is a cut throat sport that is often accompanied by theatrical outfits and clever stage names to make it even more interesting.

"Shelby is a motivated, resourceful employee with great leadership skills that I'm sure show on the track as well," said Elizabeth Machniak, Student Activities Office Administrative Assistant.
Leksche, who goes by the name "Cersei Slammister" while out on the track began learning roller derby in 2014 after encouragement to join from her mom. She now plays for the Ypsilanti Vigilantes, who are the home team of the Ann Arbor Derby Dimes group. The team represents players of all ages ranging from 18 to 60-years-old and are open to all ages, body types and skill levels.
Like all derby players, Leksche got her start at boot camp, an 18-week program that helps beginners learn the skills and rules of the game. A mandatory skills test is then required in order for players to prove that they know the necessary safety precautions in order to not injure themselves or others. She narrowly failed her first attempt at the skills test due to an injured ankle and was offered to retake the test immediately. Instead of doing so though, Leksche decided to re-participate in boot camp and is now a master of the skills and safety, easily passing the test on her second take. After nearly two years of training and playing recreationally, Leksche tried out for the Vigilantes in January of 2016 and is now an impactful teammate.
"Shelby has pushed herself to become an amazing roller derby player and has had one of the greatest turn arounds I've ever seen. Now, even though she's progressed so much in such a short time, and she's on the team, she hasn't stopped improving. She is still hustling to make herself a better player in every way, and every time I see her play she's a little better," said Melissa "Just" Wingett, Coach of the Ypsilanti Vigilantes.
While on the track, Leksche enjoys being both the jammer and the blocker and simply enjoys the thrill of the game.
"My favorite part of roller derby is simply playing," said Leksche. "It's a really fun sport, it keeps me fit and the teams are so supportive of each other."
The Vigilantes practice multiple times a week in order to perfect their runs and compete against other local Michigan teams. The group's travel team, "The Brawlstars" represents the sport in Michigan and competes against local teams as well as those from other states. Leksche has plans to continue playing the sport for the rest of her adult life and only continue to improve.
Leksche is currently heading towards an Associate Degree of Science at Schoolcraft and plans to transfer to Eastern Michigan University after the 2017 Winter Semester. While there, she hopes to major in Psychology and Exercise Science.
"Roller derby has opened my eyes to what a cool thing the body is, it has really inspired me to go into exercise science in the future," said Leksche
While much of students' time is spent in the classroom or doing outside work, after school activities can play just as an important role in one's life. Whether it be a sport, hobby or profession, having passion is an important attribute to have and Leksche is a prime example of just how freeing pursuing a passion can be.