Outstanding Achievements
Chef Chris Misiak awarded "Chef Educator of the Year"
BY CHRIS SKARNULIS
ARTS & ENTERTAINMENT EDITOR
There is a well-constructed method behind Schoolcraft's culinary program bearing a strong reputation that is regarded on a national level. It requires two vital "ingredients" to make a delicious end product. The "recipe" for success combines two roles of commitment: dedicated students and passionate instructors. One instructor in particular has recently been recognized for his outstanding achievements. This instructor, Schoolcraft Culinary Arts instructor Chef Chris Misiak, was recently awarded the "Chef Educator of the Year 2016" from the American Culinary Federation's Central Region. Misiak has been and continues to cook up success for students looking to major in the Culinary Arts.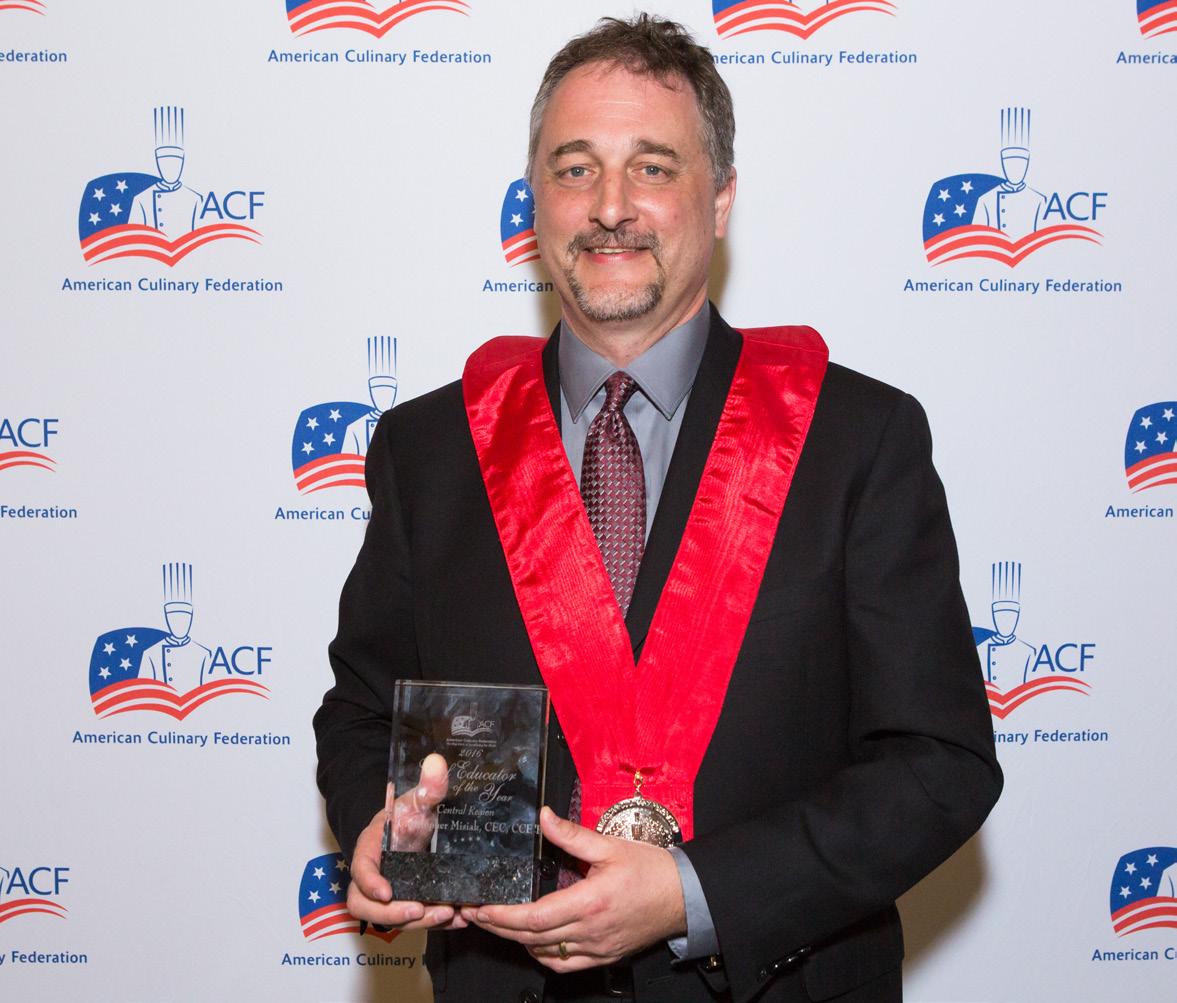 "If one looks at what those awards mean, the award is given to the nominee that has demonstrated the values of leadership and guidance to students seeking a career in the culinary arts. Chef Misiak has gone above and beyond to teach students those values. The fact that Chef Misiak has been recognized for his achievements on both a regional and national level says a lot about the passion he has for his passion," said President of Schoolcraft College, Dr. Conway Jeffress.
"Over the course of my 30 years at Schoolcraft, I have worked with many outstanding chefs and it was very satisfying to receive the award because each one of those chefs who supported me received the recognition as well. I was very proud to represent them. Also, Schoolcraft and its administration has been a solid supporter of the Culinary Arts Department and I would not have received this award without them," said Misiak.
Misiak, a graduate of the Schoolcraft culinary department himself, had a passion for the Culinary Arts from a young age. Prior to being enrolled at Schoolcraft, Misiak was employed for one year at the Four Seasons Inn in Alpena, MI in 1984. Following his departure, Misiak worked for a catering company, "B.N.B. Catering," in South Lyon as well as the executive chef at the "Masonic Temple" in Detroit. Prior to attending Schoolcraft, Misiak attended Lawrence Technological University, where he obtained his bachelor's degree, until he had the realization that his passion was in the Culinary Arts. Misiak became enrolled as a student in the fall of 1985. Two weeks after beginning the semester, Misiak's mentor, then-certified executive chef and Schoolcraft culinary instructor Richard Benson could tell that Misiak had the potential to serve as an instructor. Shortly after, Misiak became employed as a deliveryman at Schoolcraft. It appears that years of hard work and persistence paid off. Misiak worked from the ground up, and 30 years later, is now a certified instructor and shows just as much passion as his predecessor.
Misiak's love for the Culinary Arts and teaching shows in his colorful career at Schoolcraft. He has devoted a large portion of his career at Schoolcraft in designing the curriculum for the Culinary Arts program. He has also been instrumental in the creation of the newly added Culinary and Dietary Management Bachelor of Science degree within the past year.
Misiak became involved in the candidacy for the award after being nominated by the local American Culinary Faction chapter, "Michigan Chefs de Cuisine," last fall. After being nominated, Misiak underwent an arduous application process in the regional competition. The process included his submission of a lengthy resume and one of his culinary chemistry videos that highlights his ability at instructing in a classroom setting. A number of Misiak's peers and fellow Schoolcraft culinary instructors Chef Shawn Loving and Chef Brian Beland were vital in helping Misiak secure his nomination. Misiak then won the local award against very tough opponents to qualify for the regional competition held in Hawaii. During the week of April 4, he competed against the other regional winners, which includes states from Texas to Minnesota. Misiak's win was what helped him secure this award. Now, Misiak will compete against three other qualifying candidates from the other regions for the national title in Phoenix, Arizona this July.
"The formula and instruction that the culinary department provides to its students is still working and upholds the test of time in excellence. Awards such as these show that the instructors at our school hold the culinary program to a high standard and its fundamentals are still working great," said Loving.
It just goes to show that the recipe for success can be attained on both ends of the spectrum. The team of chefs involved in the culinary department go above and beyond the call of duty to share their knowledge with students that showcase the same passion. Chef Misiak has done the same and the award is well deserved.