Footprints towards success
Cross Country boasts All- American Academic Team
BY JAMES PAXSON
SPORTS EDITOR
This past March, five women's cross country runners were recognized for their incredible ability to be extraordinary in sports and the classroom by being awarded with the title of All-American Academic Team. Schoolcraft Athletics have always made sure that all athletes put student before athlete in that there can be no success in sports without being successful first in the classroom.
There are two types of All-American recognitions: one is in the placing at the National Championship with the top 15 making All-American status. The second is based on the overall grade point average during the cross-country season. An individual total grade point average of 3.4 or higher qualifies one for Academic All-American recognition. A combined team total of the 5 runner's averaging 3.2 or higher qualifies as an Academic All-American Team.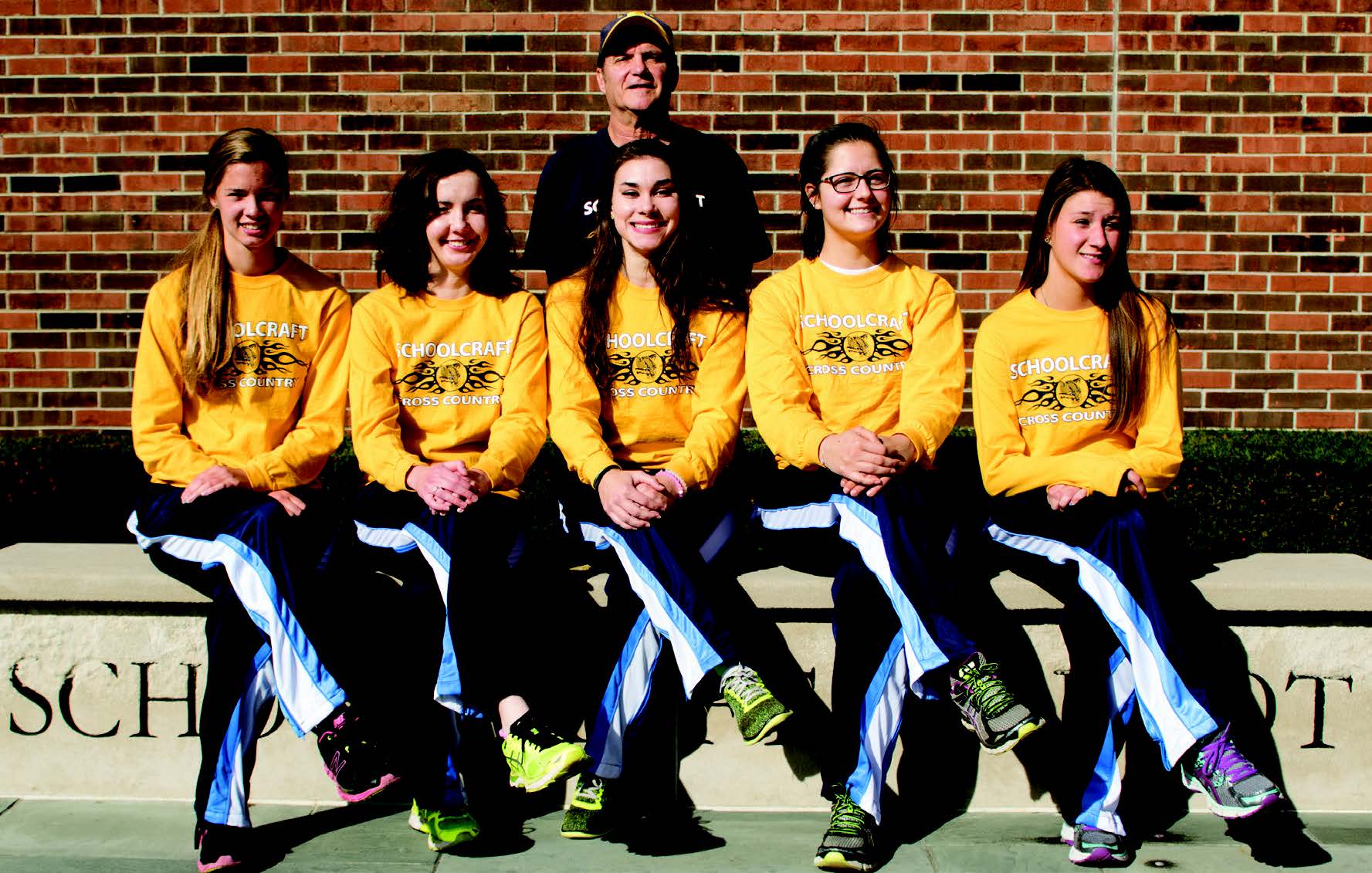 The four team members who received individual Academic All-Americans were Sophomore Grace Doolittle and Freshman Lindsey Gallagher, Caitlin Goyer and Chelsea Kovacs. Sophomore captain Audrey Baetz received a team member certification in helping the team achieve the necessary GPA, just barely missing out on individual honors.
"I advise students to always keep up on their class assignments, keep in touch with their teachers on a regular basis and to let me know if they are having any problems so that I can see what could be done to further help them," said former Cross Country Coach Ed Kozloff.
The athletes grade point averages were 3.39 (Audrey Baetz), 3.75 (Grace Doolittle), 3.75 (Lindsey Gallagher), 4.0 (Caitlyn Goyer) and 3.7 (Chelsea Kovacs). The team had an overall grade point average of 3.67 with all the women adding up to take 57 credits. This proves that the women were not just stellar athletes, but exceptional students who are paving their way to a successful professional life after Schoolcraft College.
"I was proud of myself for sure, it can be overwhelming at times having to manage school, work, cross country and staying in shape for cross country," said Caitlin Goyer. Goyer plans to continue her studies after Schoolcraft as a special needs professional and has always put pride in her academics.
In order to begin qualification for the award, a form is given to all of the coaches at the end of the season at the Regional Championship for the Academic All-American Award; Schoolcraft's Regional Championships was in Lansing this past season. It is filled out by the coach or Athletic Department when the marking period ends and returned to the committee that does the selection.
The athlete must be an official member of the team and have the acceptable grade point average in order to qualify. It shows that the person is not only a fine athlete but a superior student as well.
"This is a fine honor, we have many student-athletes that take their studies seriously and are proud to continue our tradition of earning academic honors," said current Cross Country Coach Wright Wilson.
Both Wilson and Kozloff take the term student-athlete very seriously. Both know how hard each student has to work to be a respected student and an impressive athlete. Schoolcraft College Cross Country will continue to focus breaking records in the classroom and in the sport.