Terror strikes again
Terrorist attack on Jerusalem bus leaves 21 injured
By Chris Skarnulis
Arts and Entertainment Editor
It seems that in this day and age, terror attacks never cease to consistently occur. The chain reaction of terror began in late 2015, and continues Individuals from all parts of the globe watched in horror as a series of terrorist unfolded before their very eyes. The most significant being the ISIS-orchestrated Paris attacks last November that left 130 dead and 89 injured, and more recently the March Brussels bombings that left 32 dead and 316 injured. The horror never seems to end; on April 18, 2016, a suspected terrorist-linked bus bombing occurred in Jerusalem that left 21 injured, two of which are in critical condition. Fortunately, there were no casualties.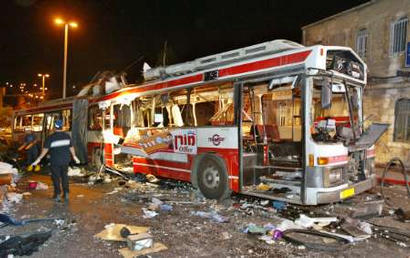 Shortly after the explosion, police were unsure as to the cause of the explosion, but were not quick to rule out terrorist involvement. The police backtracked on that claim, opening the cause to several realms of possibility. The idea of terrorist involvement was hoped to be crushed, but that all changed for the worse.
According to The Jerusalem Post, after initial confusion regarding the cause of the inferno, police spokesman Micky Rosenfeld said a forensics team, aided by bomb disposal experts at the site, confirmed the fires were ignited by an explosive device. Yoram Halevy, the Jerusalem district police chief, said in a televised statement that a bomb had caused the blast, which occurred shortly before 6 p.m. in Moshe Baram Street, in the Talpiot neighborhood of southeast Jerusalem. Following the initial explosion on the bus, the blast caught fire to another nearby bus and car, leaving Israeli firefighters hours of extinguishing the fiery and smoky catastrophe.
Jerusalem is a country that is no stranger to vehicular bombings. In 1996, a devastating double suicide bombing on two buses occurred within a week from each other that left a confirmed total of 45 victims. The dastardly deed recurred again in 2003, when a suicide bomber detonated a belt of explosives that left a confirmed total of 24 victims and 130 wounded. The Islamist militant group Hamas claimed responsibility for both bombings. Interestingly, following the explosions, there was no claim of responsibility. Hamas issued a statement praising the attack but did not claim responsibility for it.
According to CNN.com, reports circulated Monday night that one of the critically injured passengers was the one who detonated the bomb. This is yet to be determined. It is confirmed that police and forensics teams were able to gather the remains of the detonated bomb from the charred remains of the bus, and hope to capture anyone involved in this tragedy.