M83 returns with a different sound in their new album "Junk"
By Hanna Olson
Layout & Design Editor
3.5/5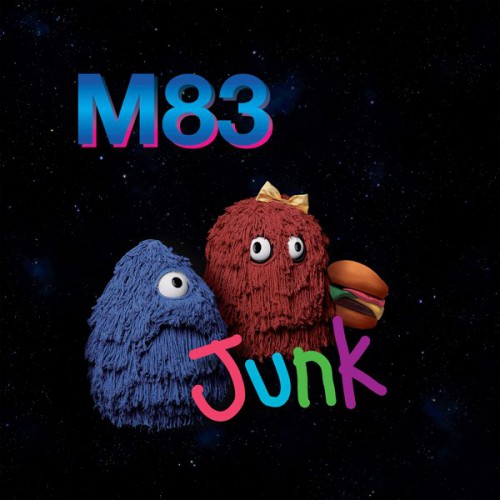 Experience a 1980's prom night with M83's new album "Junk". Released on April 82016, these nostalgic jams would send anyone back in time. This is M83's, a French electronic band formed in 2001, seventh album. M83 has had a lot of prior success, their most popular album being "Hurry Up, We're Dreaming." "Midnight City," arguably M83's best single reached number 1 in the Top 100 Tracks list in 2011 from Billboard magazine. "I always think about my past — my child years, my teenage years. …Since the beginning of my career it's almost my main source of inspiration. I always like to say that instead of trying to find the sound of the future, I'm actually trying to go back and take what I used to love as a kid and as a teenager, and make it my own," said Anthony Gonzalez, lead singer of M83, on the meaning of this new album from an npr interview.. This year they returned with a new tune that may not appeal to the majority crowd, but the funky sounds are mesmerizing.
Junk's lead single, "Do it, Try it," features repetitious lyrics common in electronic songs. The lyrics, "A dance on repeat, a trance on a hard beat," describe the song perfectly. The voices blend in with the music, being a part of the beat themselves. Although at first the song comes off as strange, with no meaning, the catchy tune will keep listeners coming back.
Junk features a few artists including Mai Lan, Jordan Lawlor, Susanne Sundfør, and Beck. Mai Lan, a French pop singer, sings in 4 songs: "Go!," "Bibi the Dog," "Laser Gun" and Atlantique Sud." She adds a soothing feminine voice that balances the albums mostly male singers. "Go!" is already a favorite of Mai Lan's contributions with upbeat vibes with the typical 80's electric guitar solo. "Bibi the Dog" is also notable. This song is more reminiscent of an 80's alternative band with a chorus that sounds like Duran Duran. The song is in half English and half French, something Anthony Gonzalez had reservations about as he feels writing English songs come more naturally to him. "Heya, I'm walkin' to the beat, right now, I'm talking to the street, and now, I'm running in the heat." Is sung in a heavily autotuned manner, but flows nicely with the song.
Susanne Sundfør is featured in the song, "For the Kids." This song features more child-like sounds. A saxophone hums in the background. "I don't know when I'll see you again, but I know that my love will last for eternity, I'll wait till the stars go dark for you to come back to me." The cheesy lyrics remind listeners of a simpler feeling of young love. This tune stands apart from the rest of the album with less electronic sounds and may not be noticed as an M83 song.
"Sunday Night 1987" is also a slower beat with a piano and trumpet coming through. The voices echo and sound haunting. The singer calls out to an old lover, "Lost memories, faded pictures, can you drive me back, to this very moment."
Overall this album may not be immediately recognizable as M83. The songs are at a much slower pace than previous albums. This album will not become the sounds of this summer, but rather for relaxing on a dark evening. M83 has become unpredictable and this may keep listeners on their feet.