Schoolcraft goes mobile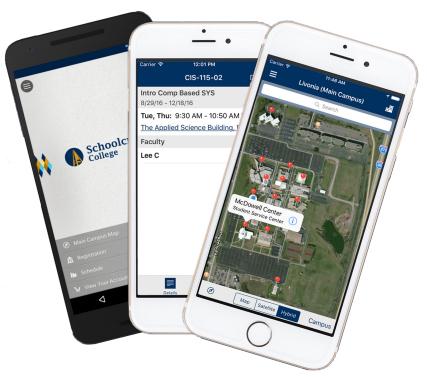 College launches interactive app
BY DYLAN RANDOLPH & ELIZABETH CASELLA
EDITOR-IN-CHIEF | MANAGING EDITOR
Schoolcraft has propelled itself into a new era of the digital age by launching its first mobile app. Debuting on Aug. 12, Schoolcraft students were given access to the brand new app on all mobile devices through the Apple store as well as the Google Play Store. This app is aimed at revolutionizing the way students interact on campus, as well as how they access WebAdvisor, Blackboard and other services offered on campus.
When Schoolcraft's administration decided to incorporate a mobile app to the Schoolcraft experience they made the decision to target exactly what students would want. The focus of this app was to create and easier and faster route for registration that is also more accessible to students


Executive Director for Applications and Academic Systems, Laura Cullens stated, "The reason we created this was to provide a fast, efficient way to give students the items they need to be successful."
The app utilizes a multitude of resources from around campus to make student life easier. These resources include an interactive map of the entire campus, important contact numbers for all campus departments and calendars, which highlight important academic deadlines and campus events.
Another notable feature that the app has established is the registration tab. Within the registration feature, students can view their schedule of classes on a day-to-day basis. They can easily drop classes or withdraw with a simple click and get continual updates on announcements from different sources on campus, in addition to faculty
When asked what made the registration feature so unique compared to WebAdvisor, David Johnson, Senior ERP System Administrator, said, "Instead of students have to go through a multistep process to sign up and register for classes, they can do all of that with five or six clicks on their phone."
As the campus continues to grow and add new features the creators of the app plan to do the same thing. Updates are always to be expected with technology and this will be no different. The software right now is the basic system that was mapped out as the easiest route for students to navigate registration, schedules and areas such as the map of the campus or the important contacts list. The map will continue to be updated as the construction finishes. There is currently a separate app that students must use to access Blackboard. The Schoolcraft app will connect users to this app without having to close out of the app and open a new one and create a link between the two. With future updates it is hoped that certain features of Blackboard such as grades and teacher notifications will be accessible in the Schoolcraft app as well.
"The main reason we created this app was to meet clients 'at their home' through their mobile devices," said Patrick Turner, Vice President and Chief Administration Officer.
The app will continually be updated throughout the year to keep students up to date on the latest technology offered as well as on the most recent changes on campus. Any questions or comments regarding the app can be addressed to the Answer Center. They can be reached by email at [email protected] or by phone at 734-462-4426.
This exciting new interactive feature is hoped by many to make life on campus a little easier to manage as well as take some of the stress of registration away in future semesters.