Tomorrow's leaders today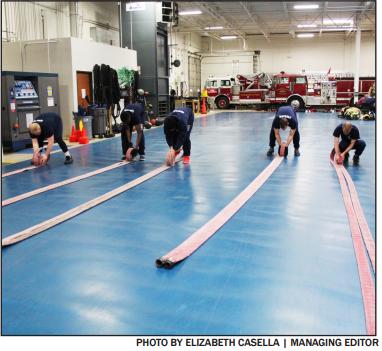 Public Safety Training Center offers state of the art training for careers in public safety
BY DYLAN RANDOLPH, EDITOR-IN-CHIEF

Ever want to run into a burning building and pull someone out to save his or her life? How about rushing to the scene of a crime and catching criminals breaking the law? Schoolcraft's Public Safety Training Center trains students how to excel in high-pressure intensive situations like these. Whether it is for careers in law enforcement, firefighting, or homeland security students who are interesting in pursuing these careers have the opportunity to do so at the Public Safety Training Center in Livonia.
Established in 2010, the Public Safety Training Center began to take in students who were looking to further their careers in emergency situations.
Fire Academy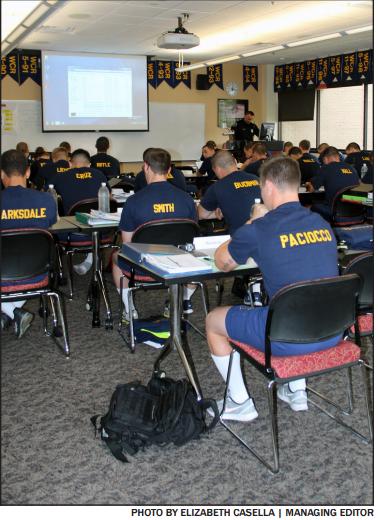 For students enrolled in the Fire Academy the center offers indoor simulations where students can practice extraction through narrow openings, disoriented firefighter extraction as well as learning the essentials about each piece of equipment a firefighter must work with. Not only will the new firefighters have to endure countless hours of classroom work but they will also engage in physical training and real life fire situations. On days where students are trained for situations that firefighters are dispatched to they
will be escorted out to a training tool called the Fire Tower. This four story fire training tower can be set ablaze repeatedly through its gas controlled functions so students can practice a variety of fire exercises. The tower also contains an elevator, which will help students practice high angle extractions furthering the extent of their abilities.
Police Academy
While the Fire Academy may seem impressive the Police Academy has just as much to offer their incoming students. Just like the Fire Academy, Police Academy candidates will have to endure physical training and conditioning, while practicing real life scenarios in a mock setting. Students participating in this program will engage in exercises such as practice traffic routines, takedowns and situational training mazes. These mazes are made up of movable walls that can be reconfigured to close spaced environments where students can practice extractions and tactical police operations.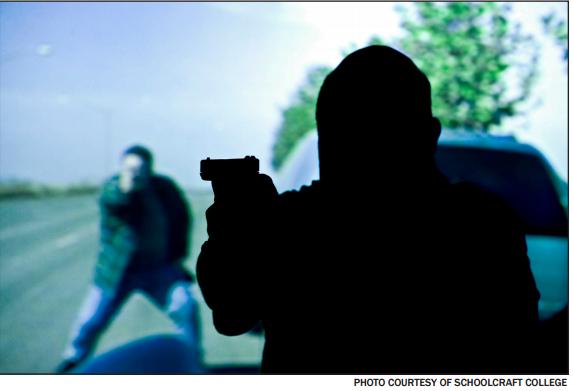 The Police Academy students will also have the ability to practice vehicular training on the center's 10-acre driving pad. Here, students will be able to practice road maneuvers such as serpentines, driving on two wheels, emergency braking and more. Students will have to pass these courses and more in order to become a certified police officer. Another fairly new feature added to this facility is the shooting range. The full length shooting range gives local law enforcement as well as students a chance to practice their sharpshooting skills with an arsenal of firearms on the training facility
Schoolcraft program graduates can be found throughout the country in the ranks of every public service, making a difference and saving lives everyday. Thanks to the Public Safety Training Center students can keep up to date on the ever-changing field of emergency management and law enforcement.
For more information about the facility students can contact 734-462-4306 or visiting the center at 31777 Industrial Road, Livonia.