Smoked out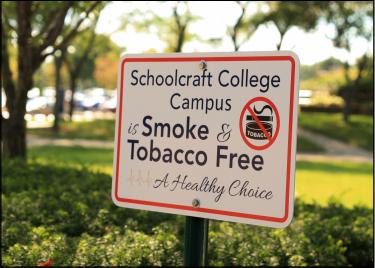 Campus goes smoke free
BY DYLAN RANDOLPH, EDITOR-IN-CHIEF
There seems to be a trend brewing across the nation with ending smoking completely. From the commercials aired about "Catmageddon" sponsored by "The Truth" which talks about how second hand smoke kills animals, to states across the U.S. making enclosed


places smoke free, the use of tobacco and tobacco like products is slowly depleting. As of Aug. 1, Schoolcraft has joined the fight to help stop smoking by making the campus smoke free.
With all of the controversy revolving around smoking, it is a clear decision on why the campus has gone smoke free. Beginning this past March, the Board of Trustees had decided that it was time Schoolcraft took the initiative that almost all of the other college campuses in Michigan had taken and banned tobacco products. Not only does having a smoke free campus make the campus tidier by not having to pick up cigarette butts, but improves the quality of the environment.
"Nobody wants to walk through the cloud of cigarette smoke as they get out of class during the winter time." said Brenda Leavens, the Director of Business Services and Risk Management.
With this new policy being implemented around campus, students have been concerned what exactly it entails. Students should know that the college is smoke free and tobacco free; this means that any tobacco products such as chewing tobacco, e-cigarettes, hookah cigarettes and vaporizers are prohibited on campus. If anyone is caught with any tobacco products the consequences can range from a warning to a disciplinary action involving the student code of conduct.
"It is enforced to everyone that's on campus, not just students and faculty. Vendors, contractors, anyone that walks on our campus, it applies too" said Leavens.
The feedback from students around campus has been positive since being implemented on Aug 1 as more and more individuals have started to take notice of their new smoke free environment.
Student Joy Johnson, stated, "I think it's a great thing to do. I'm glad I quit smoking."
Clearly not only is the tobacco free campus helping the environment, but it is helping students who broke their bad habits stay strong and become healthier.
Another student, Samantha Holmes, zoology major, stated, "I'm happy they did it, it doesn't smell as bad, it makes the campus so much better."
Although the students, faculty, staff and visitors have to oblige to the campus' new policy, they are allowed to go back to their cars and smoke in the parking lot. However, some students may find this difficult due to the fact that they will have less time to smoke during their breaks during class.
A wave of positivity has swept through campus with the new smoke free and tobacco free policy. The campus has done its part in working to stop smoking, now it is up to the campus community to take control into their own hands to quit their bad habits.