Evolving with the new age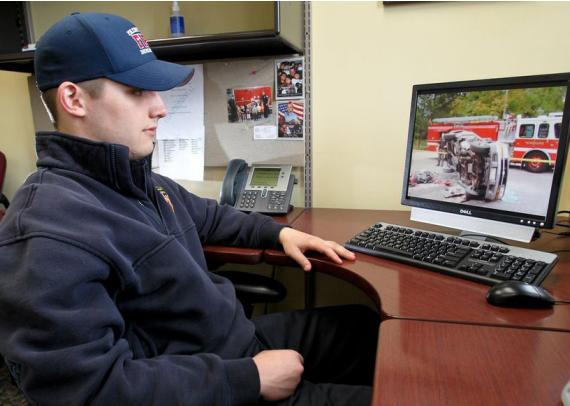 Fire Academy now offering online courses
BY DYLAN RANDOLP, EDITOR-IN-CHIEF


With everything moving in the direction of becoming online based programming, colleges around the world are starting to offer more online classes for their students to take. However, what are public safety students supposed to do when their schedules are too uncertain to dedicate themselves to a face-to-face class? Schoolcraft's Fire Academy has figured out the answer with its new Fire 205 Department Organization and Administration online course.
Many firefighters often face unset schedules during their workweek due to the ever changing 24 hour shifts they are subject to. Since these public safety officials face the struggle of not being able to attend on campus courses, Schoolcraft has created a class for returning cadets and employed firefighters to take when they are waiting in between calls.
The Fire 205 course was made for veteran firefighters as well as entry level candidates to start training for the future in the role of a Battalion Chief, Deputy Chief and other executive positions. During this class students will learn the procedures of budgets, staffing, resource management, disciplinary issues that may occur and many other topics that comes with running a Fire Department.
"I have them acting like they are a Fire Administrator. Each chapter in the book goes through each type of administration such as a budget. They actually have to practice doing a budget, dealing with all the different areas in the city that deal with making a budget," said Fire 205 Instructor Mike Harper.
One major difference in the Fire 205 course compared to other classes offered in the Fire Academy is the fact that it is not directly targeting Fire Academy students. The online course makes it easy for workers who have been on the job to come in and get the degree after years of being out of college. It is offered as a "Non-academy" degree as opposed to a Fire Academy degree making it easier for workers from the surrounding communities to take the class as well during work hours.
"This class is geared for those people who are already working, but now specifically want to move to the next level," said Fire Technology Program Coordinator, Liam A. Carroll.
The Fire 205 online course is just the start of integrating online courses into the curriculum of the Fire Academy. The Public Safety Training Center is already in the works of trying to add additional online classes for future students to attend. If any student or firefighter in the community has questions or is interested in joining Fire 205, they can contact the Public Safety Training Center at 734-462- 4426.