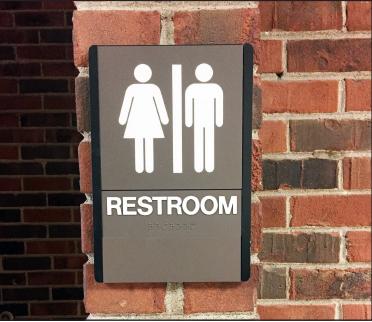 Gendered bathrooms are a thing of the past
By Quinn Storm, News Editor
Although it may not necessarily be the majority, being transgender and part of the LGBTQIA+ community is beginning to be seen as a bigger part of society. According to livescience.com, a science driven website, 700,000 people in the United States currently identify as transgender, or a gender that is different from the one they were assigned at birth.
Whether or not that is the exact amount is really hard to tell, because the Census Bureau does not address the fact that one may identify with something other than what they were born as. In short, at least .3 percent of the population is being discriminated against intentionally through bathrooms- more specifically, the lack of bathroom options for people in the transgender community.
As of April 19, 2016, the Target Corporation has chosen to stand with the federal Equality Act and offer options to both people of the cisgender (non-transgender) and transgender community. The backlash that followed this announcement apparently hasn't affected the company as a whole, though.


"To date we have not seen a material or measurable impact on our business," said Brian Cornell, Target CEO, in an interview with "Fortune" magazine.
What makes this so notable is the amount of "protesting" people are claiming to do because of this declaration of equality. Currently, the American Family Association has over 1.4 million people pledged to boycott Target Stores because of transgender equality. The AFA claims that this policy allows men to wander into restrooms to harass women and children, and also states that a unisex or family style bathroom is just as good enough for transgender people.
The claim that creepy men will be harassing women just because of this policy is an overreach. The amount of emotional, physical effort and stress it takes to publicly out oneself as transgender makes the chances quite low that a transgender person will harass others in the bathroom; why fight so hard to be treated as equals to have it taken away for bothering others in a restroom? As for unisex or family bathrooms, these types of restrooms just ostracize transgender people and make them feel as if they don't fit anywhere. How is one supposed to feel confident about their gender identity and self worth if they are not allowed to use their preferred bathroom because of the off chance another person will think they're faking their gender?
Bathrooms that are separated by men and women are backwards nowadays. Not only does this not support equality, but also it enhances the details that create prejudices, aggressive behaviors and attitudes towards an already subjugated minority. The LGBTQIA+ community has taken great strides recently and is always working to further equality in society. It is the job of people outside of this community to be accepting of differences and embrace social change so that future children and adults alike do not have to live in fear of harassment or unequal treatment due to age, race, sexual orientation, gender, gender identity, religion, ethnicity or anything else.
Bathrooms that do not restrict transgender people from using their preferred rest room is another step towards a more equal world.